Description
The Grove module is used to atomize water. It works with a voltage of 5 V. It can be used, among other things, as a humidifier, but also allows for more advanced projects where atomization is required. The set includes a cable adapted to the Seeedstudio Base Shield v2.0 cap.
Connection .
The module is equipped with Grove interface for easy connection with Arduinoand Base Shield v2.0 overlay.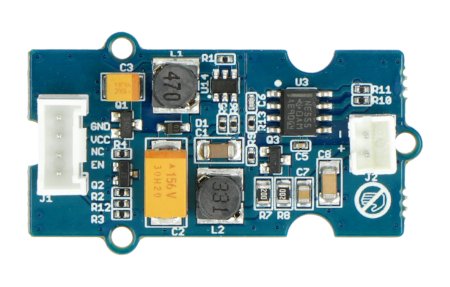 | Pin | Description |
| --- | --- |
| GND | The weight of the system. |
| VCC | Supply voltage 5 V. |
| NC | Not connected. |
| EN | Control signal. |
Arduino compatible product
The manufacturer provides auser guide for Arduino.

Specification
Power supply voltage: 5 V
Systems used: ETA1617

, NE555

Frequency of operation: 105 +/- 5 kHz
Peak output voltage: 65 +/- 5V
Maximum power: 2 W
Dimensions: 140 x 85 x 11.6 mm
Weight: 13 g
The set includes
Water atomizer
Piezoelectric diaphragm
Grove cable