Product description: Smart Home SL-WIFI 1G - wall switch - WiFI 
Intelligent single light switch, connected to WiFi. Very easy to install and operate.Touch or remote control, thanks to free app for Tuya Smart for Android and iOS. Works with Google Home and Amazon Alexa.Module in white, made of glass. Mounted in place of a traditional switch.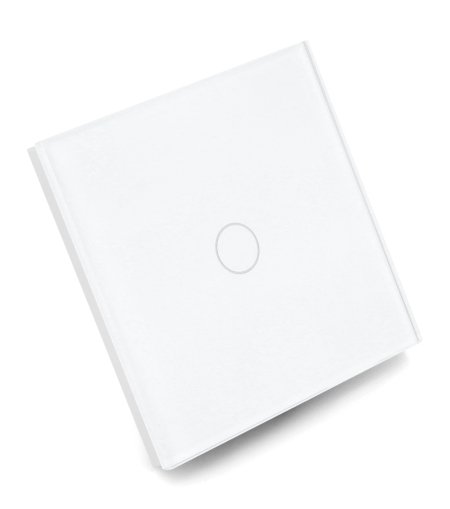 A smart home at your fingertips!
The device works with Tuya Smart - application for IoT devices (Internet of things).
Binding more than 11000 different devices together
30 categories (control, air conditioning, monitoring, etc.)
10000 manufacturers of intelligent devices
Daily development with new features and supported devices
Tuya Smart app available for free for Android andiOS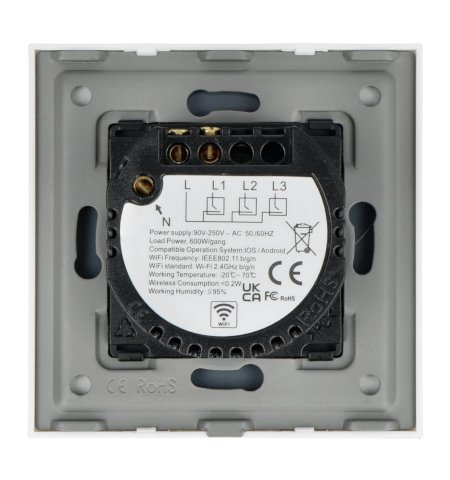 Included
Light switch
Screws
Operating instructions
Light switch specifications
Number of channels: 1
Touch control
Smartphone control
Touch panel made of tempered glass
Installation in a standard box
Maximum load: 5 A per channel
Google Assistant and Amazon Alexa Voice Assistant support
WiFi connectivity: 2.4 GHz
WiFi range: up to 40 m (depending on ambient conditions)
Operating temperature: -20°C to 70°C
Colour: white
Dimensions: 86 mm x 86 mm x 34 mm
Input: AC 90 V - 250 V