Product description: Sonoff Mini R2 - 240V WiFi relay - Android / iOS application
Ready-made240 Vrelay modulewith small dimensions, so it can be mounted in a flush-mounted box. The device is controlled viaa WiFi networkusing theeWeLinkapplication from anywhere in the world or by a voice assistant:Google HomeorAmazon Alexa. It can also be controlled viatraditional wall switches. Sonoff Mini R2 allows you to uploadyour own softwarevia theOTAport.
The Sonoff Mini R2 can be connected to external automation systems such as the DIY option: Home Assistant, openHAB, ioBroker, Domoticz, etc.
Control with classic switches
The device can be controlled by means of applications for Android or iOS mobile devices, by means of a voice assistant, as well as by means of traditional wall switches. The device also allows the use of "staircase" switches to switch on/off one source with two switches.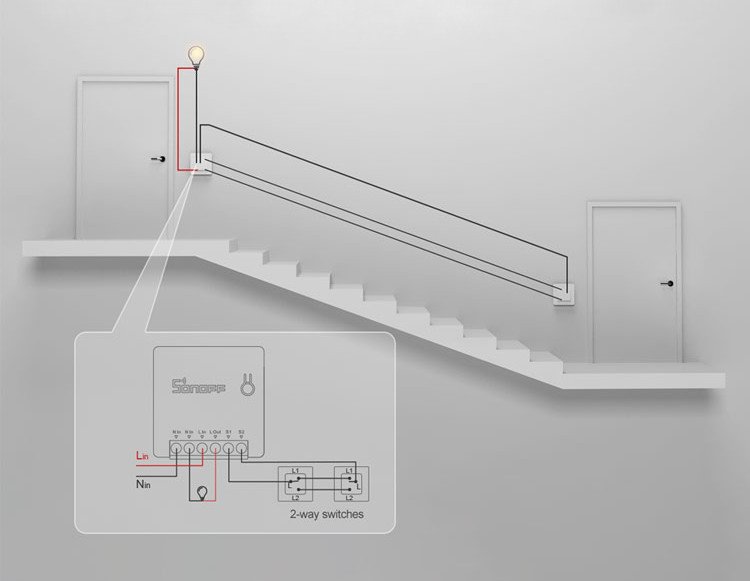 Connecting the Sonoff Mini relay using the stairway switches.
Compact dimensions
Thanks to its small dimensions of42.6 x 42.6 x 20 mm, the Sonoff Mini R2 fits into standard flush-mounted boxes, which makes it possible to convert a standard existing electrical installation into a more modern one without forging walls.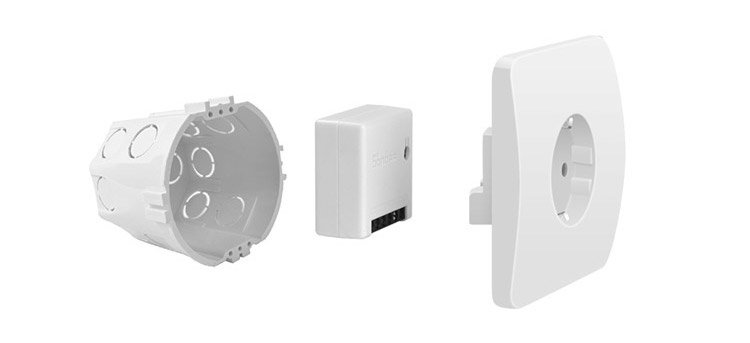 Small dimensions of the Sonoff Mini R2 relay.
Sonoff Mini R2 connection diagram
The device has a very simple wiring diagram, described on the casing, making it easy to connect the appropriate wires. TheN in and L inconnectors should be connected to the main power supply (the N lines of the power supply should be bridged with the N line of the device), theL outconnector is used to connect the 230 V device, while theS1 and S2connectors are used to connect a traditional switch.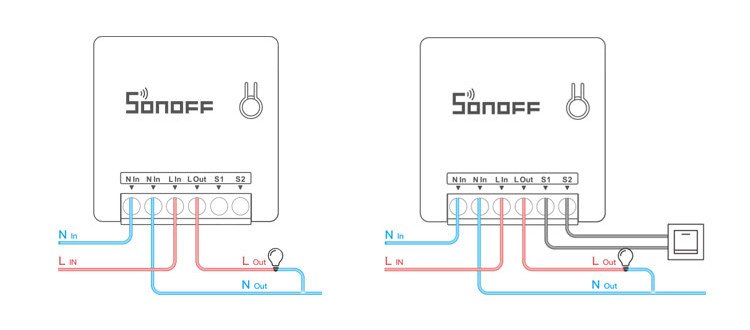 Wiring diagram for Sonoff Mini R2.
Sonoff Mini R2 relay specifications
Voltage: 100 V to 240 V AC 50 / 60 Hz
Maximum current: 10 A
Communication: WiFi IEEE 802.11 b / g / n 2.4 GHz
Material: PC (polycarbonate), class V0
Operating systems supported: Android 4.1 or higher, iOS 9.0 or higher
Voice control: Google Home, Amazon Alexa
Built-in internal WiFi antenna
Dimensions: 42.6 x 42.6 x 20 mm