Product description: Cytron MD30C - single channel motor controller 30 V / 30 A
Single channel DC motor controller. The module can control the direction of rotation, start, stop and speed of DC motors. Continuous current per channel 30 A (momentary 80 A). Supply voltage from 5 V to 30 V. Module can be controlled by microcontroller e.g. Arduino.
On the board there is a potentiometer used to control the speed of the motor and two buttons used to change the direction of rotation of the motor. Using JP4 and JP6 jumper you can use external potentiometer and buttons. More information in user manual.
Product compatible with Arduino
Sample code and detailed information can be found in the user guide.
Technical specifications of the controller
Supply voltage: 5 V to 30 V DC
Logic part voltage: 3.3 V and 5 V
Average current per channel: 30 A (momentary 80 A)
Number of channels: 1
2 direction indicators for each motor
1 diode indicating the power supply
Power supply switch
Reverse polarity protection
Dimensions: 94 x 79 mm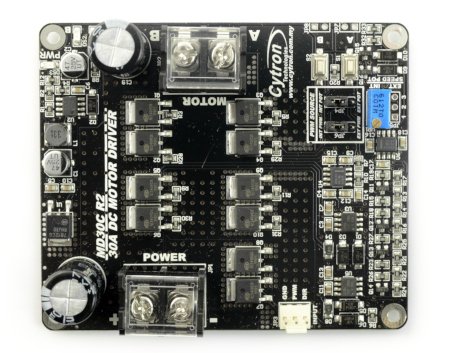 Cytron MD30C - single channel 30 V / 30 A motor controller.
Set includes
MD30C

motor controller
3-pin plug and pins for the housing
Plastic spacers