Product description: DC/AC step-up converter AZO Digital 24 V DC / 230 V AC IPS-2000S 2000 W - sinus
The in verter allows you to use devices that require AC 230 V using batteries or car installations with DC 24 V. It provides at its output a full sine wave identical to that of the mains. Ideally suited to power laptops, USB devices, printers, cash registers, lighting, small appliances, chargers and other equipment, as well as equipment equipped with induction motors and transformers, such as power tools, pumps, etc. It provides 2000 VA maximum power and 1000 VA continuous power. The inverter has active cooling and protection against overheating and overload. Includes 4 spare fuses and a set of power cables.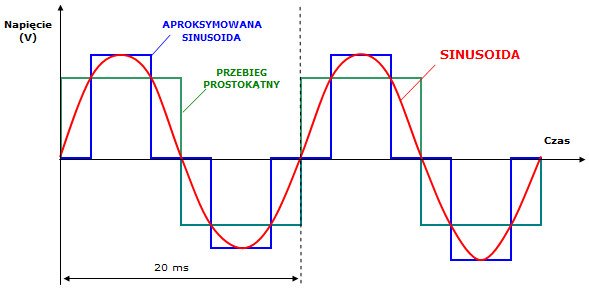 Suggested application
This converter is ideal for powering:
Refrigerators, freezers, microwaves, motors, pumps, compressors and fans.
Drills, grinders, mowers, vacuum cleaners
Incandescent, LED and fluorescent lighting
Laptop and USB power supplies, computers and monitors, TV
Printers and cash registers

Induction motors, furnaces, CH pumps.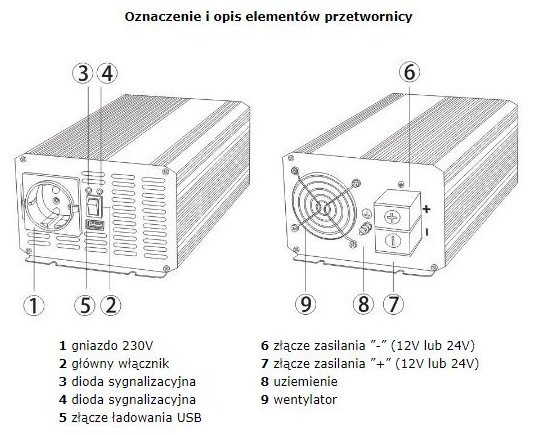 Technical specification of the converter
Product name: IPS-2000S Sinus 24V
Input voltage: from 22 to 30 V DC
Output voltage: 230 V AC
Maximum power: 2000 VA
Continuous power: 1000 VA
Output voltage waveform: Sinusoidal
Soft start for induction motors: YES
Overload protection: YES
Short circuit protection: YES
Thermal protection: 80 °C
Over voltage protection of power supply: 30 V DC
Discharge battery warning: YES
Operating temperature: 0 °C to +40 °C
Efficiency: >92
Cooling: Active
Power connector: M6 screw connector
Output socket 230 V: 1 x E (with pin)
USB socket: YES
Housing: Aluminum
Degree of protection: IP21
Dimensions: 260 x 185 x 90 mm
Weight: 2200 g
Details in product card.
Set includes
Inverter IPS-2000S Sinus 24V 2000W
Power wires
4 spare fuses
User manual in Polish