Product description: Tuya RS1 WiFi in-box relay
TheTuya RS1universal relay module is a compact universal relay moduledesigned forbox mounting in the electricalsystem. It works with the TuyaSmart Lifeapplication to control switches and sockets from anywhere in the world. It can also be used forscheduling andtimer control. Tuya RS1 works with Google Home and Amazon Alexa.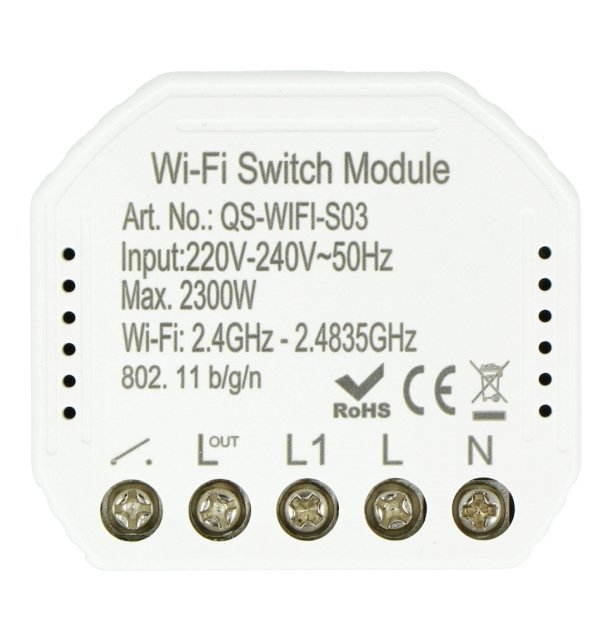 Tuya RS1 WiFi in-box relay.
Supported functions
Depending on the connection, it is possible to control staircase switches, standard switches and electrical sockets. Tuya RS1 in combination with the application allows:
Setting the timer or stopwatch - time to switch on or off
On/Off from anywhere in the world
Scheduled control - weekly switch-on cycles
Scene setting - Adjusting control according to time of day
Voice support with Google Asistant or Amazon Alexa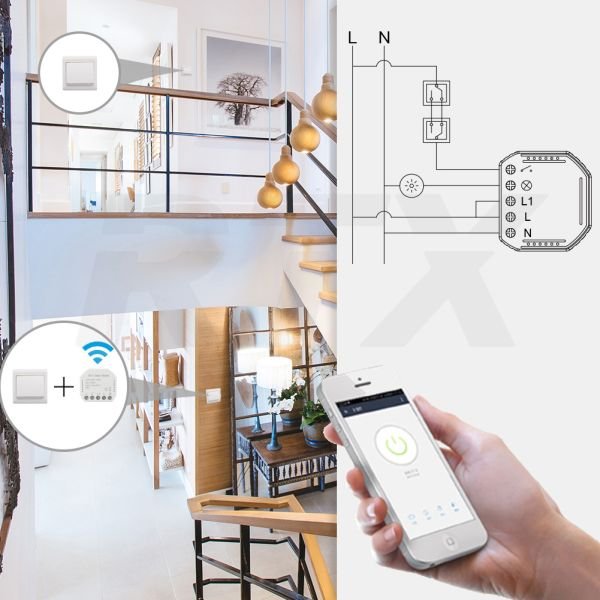 Connection diagram of the Tuya RS1 relay to the staircase switch.
Specification of the in-box relay
Supply voltage: 85 V to 265 V / 50-60 Hz
WiFi range: up to 30 m
Band: 2.4 Ghz
Maximum power: 2300 W
Operating temperature: 0°C to 50°C
Dimensions: 40 mm diameter x 70 mm height
Weight: 78 g