Product specification: Tamiya 70168 double gearbox - set
Nominal supply voltage: 3 V
Possible postponements: 12.7:1, 38:1, 115:1 i 344:1
no-load speed for 3 V: 12300 rpm
no-load current consumption for 3 V: 150 mA
Maximum current for 3 V: 2100 mA
Torque (without gear: 0.036 kg*cm)
Diameter of the hexagonal shaft: 3 mm
Self assembly kit
Weight of set: approx. 120 g
Gear ratioselection 70168
The gearbox allows you to select a gearbox according to your project needs. You can choose from four configurations:
Gear ratio

Speed

Torque

12.7:1

1000 rpm

0.4 kg*cm
(0.04 Nm)

38:1

320 rpm

1.3 kg*cm
(0.12 Nm)
115:1

100 rpm

4.0 kg*cm
(0.39 Nm)

344:1

30 rpm
12 kg*cm
(1.17 Nm)
The parameters given are calculated for idling without taking into account gear losses.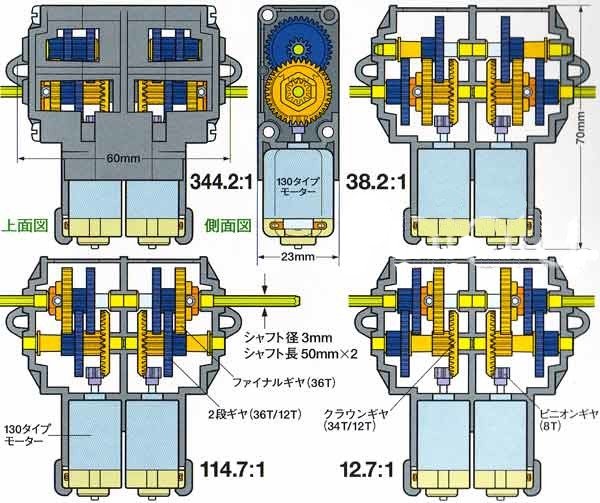 Instructions on how to select the gear. A paper copy is included.
Accessories for gear 70168
In our offer we also have accessories to build a complete robot moving on tracks or traditional wheels.
Installation of a double gear
The gearbox works with other Tamiya products such as a set of tracked wheelsand sports wheels.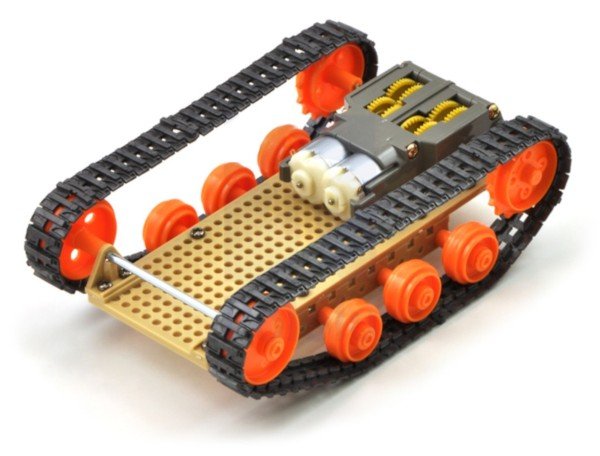 Tank made of Tamiya components.
Tamiya transmission control
The DRV8833 or DRV8835 series modules available in our offer can be used for motor control . These systems allow you to supply motors with voltage from 2,7V, so that the gearbox will maintain full life. The user can also use the TB6612 controller, limiting the motor voltage with the PWM signal. Controllers can be controlled by means of startup sets (e.g. Arduino, STM32Discovery or Rasbperry Pi minicomputer).
If you use your own PCB, we invite you to get acquainted with the offer of controllers in the form of integrated circuits in surface and over-soldering housings.
Branded Tamiya gearbox
Universal gearbox, equipped with two independent sections driven by separate DC motors. The output shafts of the gearbox have a 3mm hexagonal section and are compatible with other Tamiya products.
Tamiya 70168 - double gearbox offers the user the possibility to configure the gears in the range independently: 12.7:1, 38:1, 115:1 or 344:1. The motor supply voltage is 3 V and the current consumption ranges from 150 mA (no load) to 2100 mA. The idling speed is 12300 rpm.
Other Tamiya products
Among the products from Tamiya's wide range of products, the Botland store offers - in addition to the presented gearbox - also other accessories dedicated to RC modelers and amateur robotics. One of the most interesting extensions compatible with the 70168 transmission is a set of track wheels (Tamiya 70100), which - combined with the universal mounting plate of the Tamiya 70098 - allows the construction of a chassis with a tank structure.
In our offer you will also find another model of transmission of similar construction, but offering a different range of transmissions. The Tamiya 70097 double drive allows you to set gears from 58:1 and 203:1 and also works with the mentioned crawler chassis.