Description
The module has four SRD-05 relays with a coil powered with the voltage of 5 V, it was also equipped with a module Bluetooth 4.0 BLE allowing ot control the devices via Android or iOS device with the appropriate app.
Connection
For proper operation, it is sufficient to connect the power supply of the relay's coil and the digital control signal or the respective application. The pins are the screw ARK connectors that are connected by wires with the removed insulation at the ends.
App for Android can be downloaded here.
For iOS devices, look for the TwoSwitchBle app in the AppStore .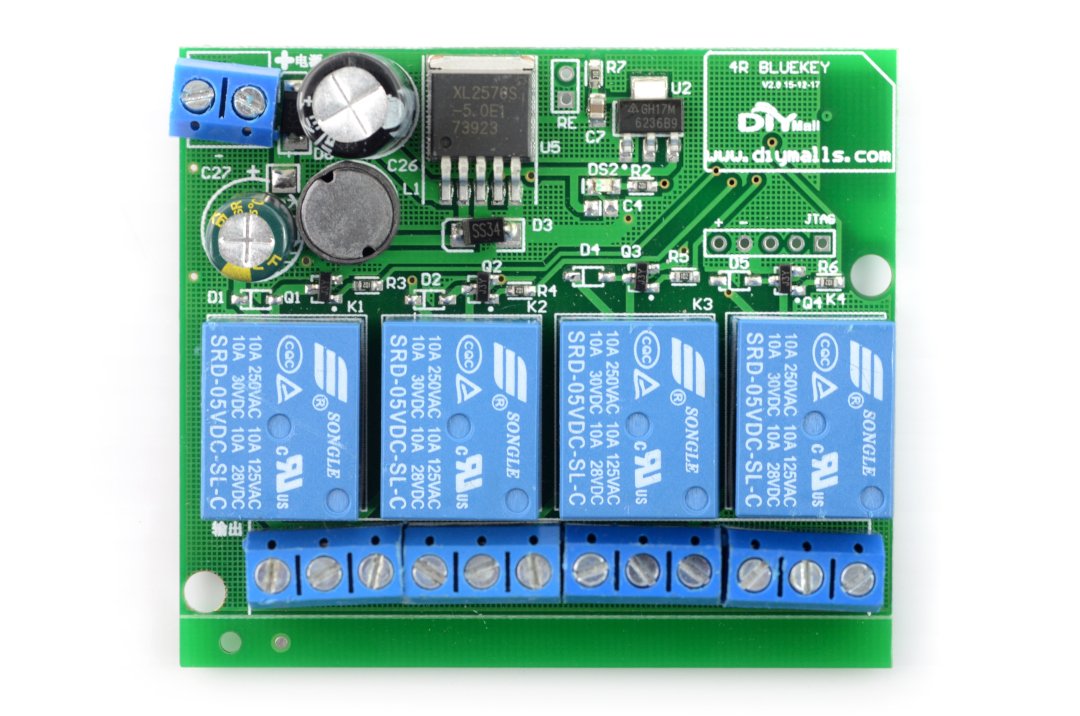 Pins
DC+ - supply voltage of the system
DC - ground of the system
Output contacts of the relay:

NC - COM shorted by default
COM - commonly shorted with NC or NO depending on the control signal
NO - splaid by default
Examples of application
Driver of lighting
The driver of executive systems
Switch for electric devices, including motors
Specification
Supply voltage od the system: 5 V
SRD-05VDC-SL-C relay (documentation)

Coil voltage: 5 V
Supply voltage: 5 V / from 6 V to 24 V
The maximum voltage of contacts: 250 VAC, 125 VDC*
Maximum current: 10 A

Number of channels: 4
Bluetooth BLE 4.0 module 
Compatible with: Android 4.3 and newer, and iOS
Dimensions: 66 x 61 mm
* Maximum contact voltage depends on the type of load - details in the documentation, tab. 7. Contact Rating.