Description
A digital sensor connecting proximity measurement and the ability to measure the ambient lighting. Works in range up to 200 cm with a resolution of 1 mm. It is supplied with the voltage from 2.6 to 5.5 V, has a built-in voltage regulator, communicates via the I2C bus.
Time-of-flight method is to measure the time from the emitting of a pulse from an infrared laser to itss return to the detector. It does not depend on the reflection of the light from the object.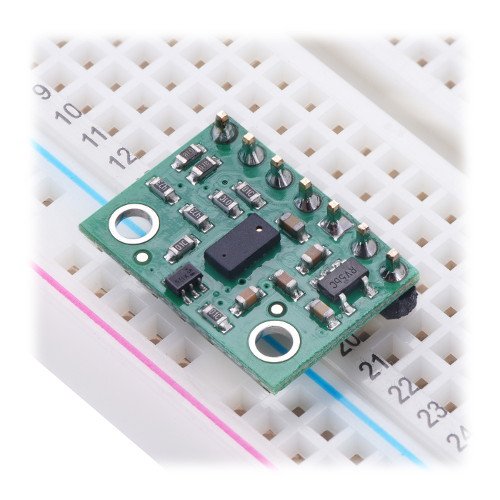 The module has necessary for the correct operation of the system, passive elements. Leads are popular goldpin connectors for connecting the sensor viawiresor to connect directly to breadboard. Connectors are included for self-soldering.
Specification
Supply voltage: 2.6 V to 5.5 V
Current consumption: 10 mA
Measuring range: 0 to 200 cm
Resolution: 1 mm
Interface: I2C (TWI)
Tile sizes: 13 x 18 x 2 mm
Weight: 0.5 g
The set also includes strap goldpin
The product is compatible with Arduino
Library for connecting to the Arduino, can be found atthis address.
Komunikacja
The sensor has seven leads for self-assembly of the connectorsgoldpin - pitch 2.54 mm (included).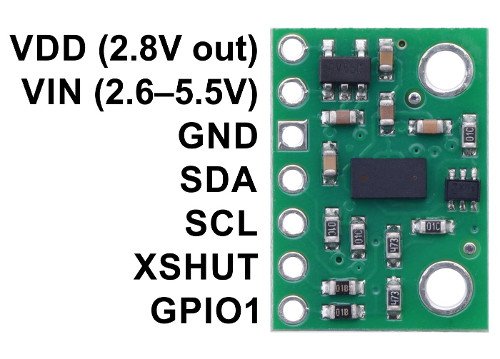 Name

Description

VDD
Regulated output voltage is 2.8 V.

VIN

The module supply voltage is from 2.7 V to 5.5 V.

The SDA and SCL lines are pulled to this level with resistors.


GND

The mass of the system.

Traffic


Data line of I2C.

Low state is 0 Volts and high state is equal to VIN pin.

SCL

Line clock I2C.

Low state is 0 Volts and high state is equal to VIN pin.

XSHUT

The pin disabling the module is activated by low state. By default, pulled to VDD.

Low state switches the sensor in standby mode. Details inthe documentation.

GPIO1
Programmable interrupt output. Details inthe documentation.