Attention!
The product has been discontinued. Check other products in category.
Description
Numato Opsis is an open (Open Source) videoplatform based on the FPGAXlinx Spartan-6 S6LX45Tfor operators of Webcams and artists. It has256 MB of RAM DDR3-1600. The board was equipped with4 HDMI terminals(2 inputs / 2 outputs),2 x Display Port(in / out), connectorUSB type BandmicroUSB, portGigabit Ethernetanda microSD slot. Board gives users full control over the video, allowing everything from capturing conference footage in real-time to experimental visual art. It even allows a general study of the video and pictures based on FPGA.
Opsis is an ideal device for software capturing videoHDMI2USB.tv that provides safe access from any computer. It provides direct provision of video streams in real time on a PC via USB 2.0 or by sending it across the Gigabit Ethenetnetwork.
The figure below shows an example connection scenario. The HDMI output from the laptop is transferred to Opsis, which redirects the image to an external monitor and simultaneously provides image capture to other computers via USB 2.0 interface. HDMI2USB.tv emulates a standard webcam UVC, allowing any video program such as Skype, Google Hangouts or WebRTC, for transferring them to an audience online.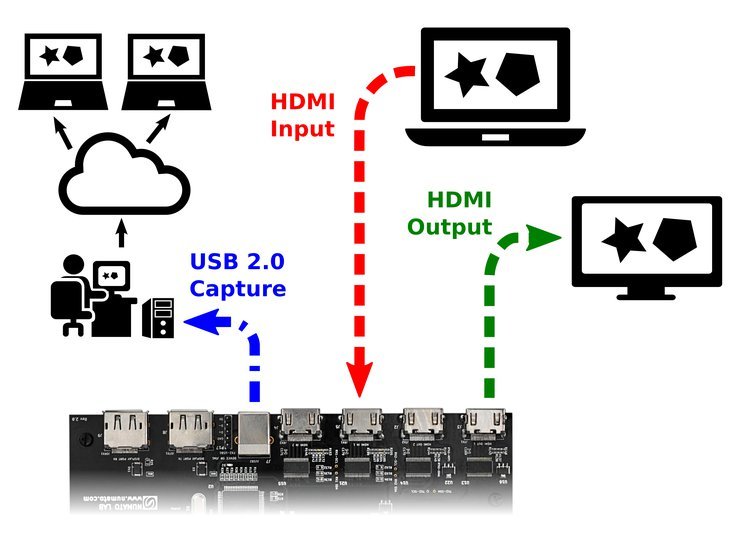 Sample script of a connection Numato Opsis.
Key features
Disposition: FPGA Xlinx Spartan-6

S6LX45T

Supply voltage: 12 V / 1 A (no power supply included)

RAM: 256 MB DDR-1600
Outputs HDMI: 2
HDMI input: 2
HDMI resolution: 1080p / 30 fps 720p / 60 fps, 1280 × 1024 / 60 Hz
Inputs Display Port (experimental): 1
Outputs Display Port (experimental): 1
Display Port resolution: 4096 x 2304 x 30 bpp / 30 Hz
Slot for memory cards microSD
SPI flash memory for configuration data: 128 MB
USB 2.0 Cypress FX2 chip, supporting FOSS data transfer of 30 MB/sec up to 40 MB/sec and USB programmer, JTAG and USB-UART adapter
USB 2.0 OTG to connect keyboard, memory, laptops, and so on.
Ethernet: gigabit with a unique MAC address
Sizes: standard ITX installation
Default firmware: demo function, the USB controller is installed as a USB JTAG programmer
License: Creative Commons BY-SA
Complete set of screws and spacers