Attention!
The product has been discontinued. Check other products in category.
Product description: Particle Grove Shield - hub splitter - 8 connectors - for Feather and Particle Mesh - Adafruit 4309
TheParticle Grove Shieldis a hubsplitterfor the Feather andParticle Meshfamily of modules. It features 8Grove-compatibleconnectors forquickandconvenientconnection to peripherals,without the need to solderadditional connectors. Among them are three Grove analog connectors, two Grove digital connectors, two Grove I2C connectors and one Grove UART connector. The dimensions of the module are57.6 x 53 x 11.8 mm.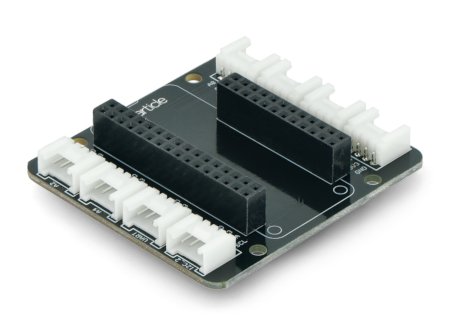 A splitter for the Feather and Particle Mesh family of modules that provides the user with 8 connectors in a Grove system.
Technical specification
Connectors:

three Grove analogue connectors
two Grove digital connectors
two Grove I2C connectors
One Grove UART connector

No soldering required: all connectors are soldered into the board, and thanks to the Grove system there is no need for a contact board
Supply voltage: 3,3, V
Dimensions: 57.6 x 53 x 11.8 mm
Weight: 18.7 g