Attention!
The product has been discontinued. Check other products in category.
Product description: BrainCraft - machine learning module - overlay for Raspberry Pi 4B - Adafruit 4374
BrainCraftisan overlay for Raspberry Pi 4B that enablesmachine learning. It has a built-inIPS TFTdisplay, with a diagonal of1.54''and a screen resolution of 240 x 240 px. It is also equipped with5-way joystick, utility button, two microphones located on the left and right side of the module andheadphone connector. The manufacturer has also equipped it with three DotStar RGB LEDs andtwo 3-pinSTEMMA QTconnectorsthat can be used to connect more utility buttons, relays, and some NeoPixel LEDs. A controllable minifanhas been placed at the bottom of the BrainCraft overlay to cool down the Raspberry Pi 4B when performing more intensive AI inference calculations.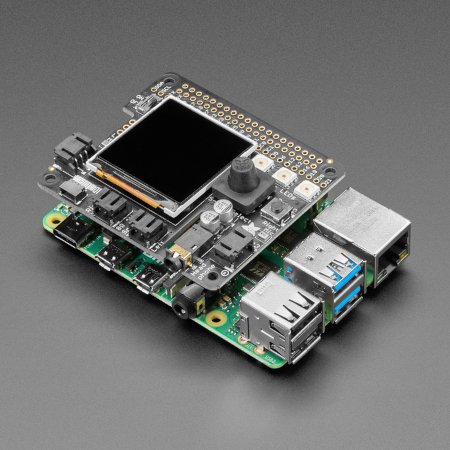 The subject of the sale is BrainCraft overlay.Raspberry Pi 4Bmodule can be purchased separately in our shop.
Functional overview
Display- allows you to display text and video on a 240 x 240 px screen
Stereo speaker ports for audio playback - designed to convert text to speech, alerts or to create a voice assistant
Headphone output - for audio playback through a stereo system, headphones or external speakers
Microphoneinput - ideal for creating your own intelligent home assistants
5-way joystick andutility button
Technical specifications of the overlay for Raspberry Pi 4B
Compatible with: Raspberry Pi 4B
Type: machine learning module
Display:

Display type: IPS TFT
diagonal: 1,54''
resolution: 240 x 240 px

Controls:

5-way joysick
utility button

Pinouts:

STEMMA QT / Qwiic connector
headphone output
microphone input

3 DotStar RGB LEDs