Product description: BBMagic BBMobile - Bluetooth module for Arduino, STM, ARM, AVR
BluetoothLow Energy module created byBBMagicDesigned for Arduino and other modules with STM, ARM, AVR, PIC microcontrollers. It communicates with Arduino via serialUARTinterface at 9600 bps or 4800 bps. Allows you to createwireless mobile interfaceson your smartphone screen. Application interface description is sent as a text data structure in popular JSON format. The module is poweredfrom 3.3 V to 5 V,communication tolerates 5 V.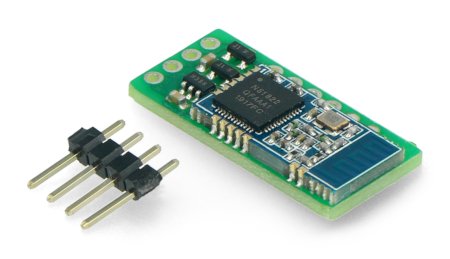 Arduino Bluetooth Module.
Thanks to the Bluetooth module for Arduino BBMobile
Forget about problems with aesthetic user interface - build and operate graphical HMI with simple text commands
Make your project wireless
Create beautiful graphical interface for your devices
Use many ready-made sketches, schemes and designs
Learn how to use the lightweight and popular JSON (JavaScript Object Notation) data exchange format
Take advantage of the latest Bluetooth Low Energy technology
Main features of Bluetooth Arduino BBMobile
Allows you to create wireless mobile interfaces on your smartphone screen
Compatible with Arduino, ARM, AVR, PIC, STP controllers, etc.
Works with the free BBMobile application for Android and mobile devices with Bluetooth from version 4.0 (Bluetooth Low Energy - BLE)
Applications created and supported by any microcontroller with a UART interface, 9600 bps, 8N1
Description of the application interface is sent as a text data structure in the popular JSON format (JavaScript Object Notation)
The microcontroller controls the application behavior by sending short control commands
Information about user interaction (pressing a button, switching a switch, etc.) is sent back to the microcontroller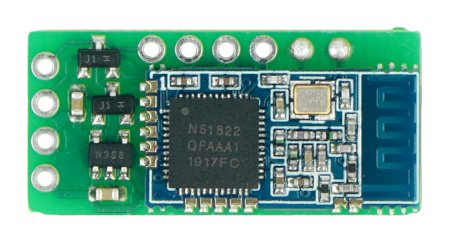 BBMobile Bluetooth module.
How to connect Bluetooth module to Arduino
The Bluetooth module communicates over theUARTserial interface at 9600 bps or 4800 bps. The BBMagic is poweredfrom 3.3 V to 5 V,the UART communication interface tolerates 5 V. The pins are described on the back of the Bluetooth module board. Plug Bluetooth module into pins 2, 3, 4 and 5 of Arduino module.
Specification for BBMobile Bluetooth module
Power supply: 3,3 V to 5 V
Communication: UART (tolerance 5 V, default 9600 bps, possible 488 bps, 8N1 - 8 data bits, no parity bit, 1 stop bit)
Wireless communication: Bluetooth version 4.0 and higher (Bluetooth Low Energy - BLE)
Creating mobile applications by sending JSON text code via UART
Communication with application via short text commands
Free BBMobile application for Android from version 4.4.2
Dimensions: 27 x 12 x 4 mm