Description
Complete modulewith colored LED lights for assisting parking in garages and parking lot. Green color indicates a safe distance, blue color is a small distance from the obstacle, then with a red light you should stop the vehicle. The devicerequires no configuration, you just need to connect it to the power source and the LED strip (LED modulescan be purchased separately).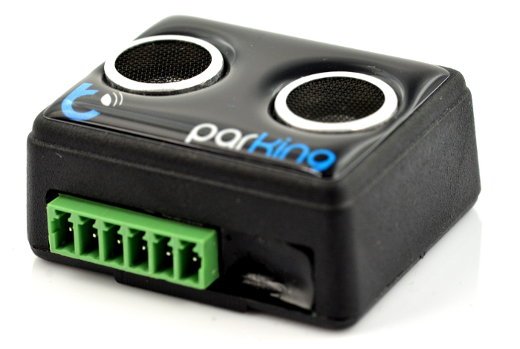 The device has screw terminal block connectors together with a socketfor installationof wiring, mounting hole allows you to mount the sensor on the garage wall.

Installation
The module has six screw terminal blockconnectors, to which you can connect the wires using a screwdriver.
+supply voltage, shared with the LED strip.
-is the mass of the system.
R- red color channel (RED).
G- green color channel (GREEN).
B- blue color channel (BLUE).
On - output in a form of an open collector, to integrate with i.a. alarm systems, smart home, for counting vehicles. You can leave it unconnected.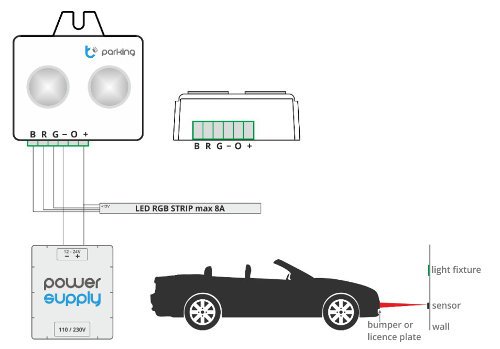 Signals
Depending on the distance from the car to the wall, the controller changes the color of the LED module:
Green - you can drive safely forward .
Blue- warning, the car is close to an obstacle.
Red - you must stop the car.
Flashing red- you must immediately stop the car, the distance from the wall is only a few inches.
Specification
Supply voltage: 12 to 24V
The device changes the color of the LED panel depending on the distance -the LED modules can be purchased separately
Number of channels: 3
Maximum current up to 8 A (up to 3 A for each channel)
Operating temperature: -10°C to 40°C
Dimensions: 50 x 40 x 25 mm (50 x 40 x 25 mm with connector)