Description
The devastator is a tracked platform to build a mobile robot. In addition to the chassis, the set includes two metal DC motors and tracks along with necessary mounting devices. Elements of the chassis are made of aluminum that provides high durablility. The boards have holes allowing to mount various sensors, controllers, for example, Romeo, Arduino Raspberry Pi manufacturer.
This is a newer version of the popular Devastator. It has the following improvements:
The new form has a greater number of modules
Modular wires - no soldering needed
The plastic engines have been replaced by more resistant - metal
Increased speed and torque
Increased payload from 1.5 kg to 3 kg
New suspension to overcome the most difficult areas
The platform is simple to install, the set includes illustrated instruction. In order to start robot, you just need to fold the chassis and add any robot controller (for example, compatible with the Arduino system, Romeo V2 is equipped with the driver of motors L298). In our offer, we also have sensors that can extend the robot's capabilities. The devastator is also compatible with Intel Edison.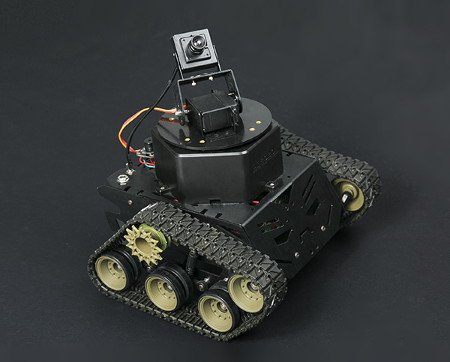 Set requires self-assembly, included is user manual.
 Specification
Supply voltage of motors: from 2 V to 7.5 V
Rated voltage: 6 V
Gear: 45:1
The shaft is D-shaped: diameter of 4 mm
No-load speed (6V): 133 rpm
No-load current (6 V): 0.13 A
Torque (6V): 4.5 kg*cm (0,44 Nm)

Design

Load capacity: 3 kg
The diameter of the tracks: 43 mm
Maximum speed: 36 cm/sec
The sizes of the whole design: 225 x 220 x 108 mm
The mass of the whole design: 1.3 kg