Specification of the D24V150F3 converter
Input voltage: from 4.5V to 40V
Output voltage: 3,3 V
Output voltage accuracy: 4 %
Continuous output current: 15 A
Efficiency: 80% to 95%
Integrated protection against overcurrent, overvoltage and overtemperature
Four mounting holes with 2,2 mm diameter
Dimensions: 43 x 32 x 11 mm
Weight (without connectors): 19 g
Product description: D24V150F3 - 3,3V 15A step-down converter - Pololu 2880
The step-down (buck) converter is used to power systems operating at 3.3V. The advantage of the circuit is a wide range of input voltages from 4.5 V to as much as 40 V.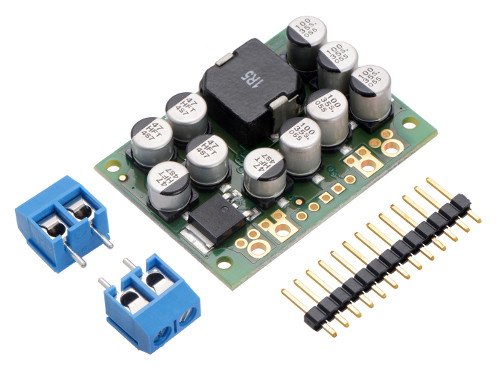 The D24V150F3 module allows to draw current up to 15 A. In our offer there are also step-down systems from the series D24VxFy with different maximum voltages and currents.

Leads of the converter
| Pin | Description |
| --- | --- |
| VIN | Input voltage from 4.5 V to 40 V. |
| GND | Ground potential. |
| VOUT | Output voltage. |
| ENABLE | Applying a low voltage state below 1 V) causes the circuit to go into a low power state (about 10 μA). The pin is pulled up to the supply voltage through a 100 kΩ resistor, making the circuit on by default. |
| PG | Energy Meter. An open-drain output that goes low when the voltage drops below 85% of nominal or rises above 115%. Use an external pull-up resistor to use this pin. |
| MOD | Mode pin, internally pulled low, which selects the fixed frequency mode. Pulling up to high reduces the resting current (while increasing efficiency) at low loads (on the order of a few milliamps). Function available when the input voltage is much higher than the output voltage. |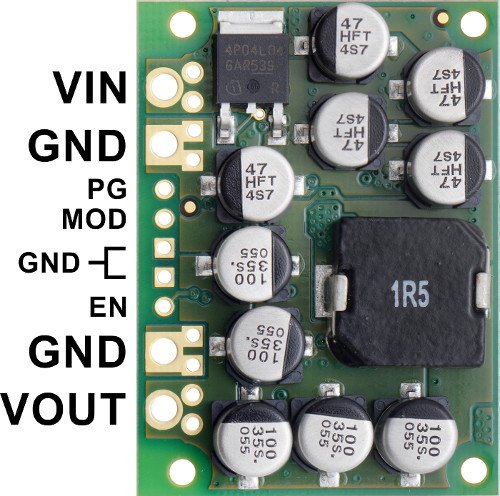 The connectors are properly signed on the board. Pinout is 2.54 mm (goldpin). The module can be plugged into a contact board, connected with wires or soldered into a dedicated PCB.

System efficiency
Efficiency is defined as the ratio of output power to the input power (Power out)/(Power in). It is a very important parameter in the case of work with portable sources of energy (batteries and accumulators), where the time of work on one charging cycle counts. The efficiency of this pulse circuit is about 80 % - 95 %.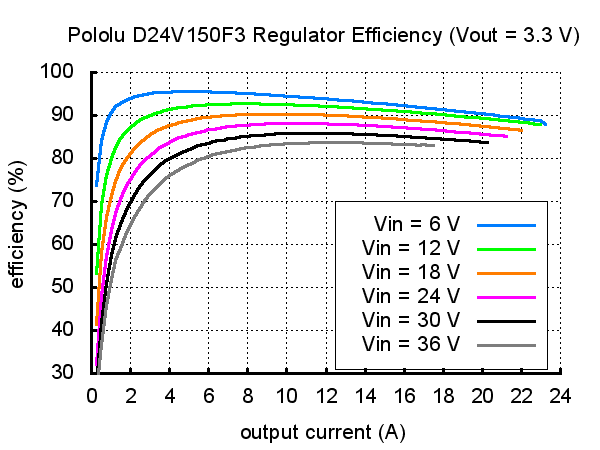 Drop-out voltage
This parameter is defined in the documentation as drop-out voltage is necessary for the proper functioning of the system, minimum difference between input and output voltage. For example, if the drop-out is 1 V and the desired output voltage is 5 V, the input voltage value should be higher than 6 V. Drop-out does not matter for the 3.3 V version, because the minimum supply voltage of 4.5 V already has enough margin to provide 3.3 V regardless of the load.