Product description: Bidirectional current/power sensor - INA219 - 26V 3,2A - STEMMA AT/Qwiic - Adafruit 904
Bidirectionalcurrentandpowersensor manufactured byAdafruit. It has built-inINA219chip, twoSTEMMA QT / Qwiicstandard connectors placed on both sides of the board and leads as solder fields. It is used to measure high DC voltage and current over theI2Cbus with an accuracy of 1%. The sensor can measure maximum voltagefrom 0 V to 26 V DC(despite of 3 V or 5 V power source). The amplifier measures the voltage across a 0.1 Ohm resistor. The maximum input difference of the amplifier is +/- 320 mV, which allows to measure current up to +/- 3.2 A. Witha 12-bit ADC, the measurement resolution is 0.8 A.
Product is compatible with Arduino and Raspberry Pi.
A detaileduser guideis available on the manufacturer's website, which includes wiring diagrams for each controller. The guide makes it significantly easier to get started with the module.
Technical specification of the module
Chip: INA219
Type of module: bidirectional current/power sensor
Supply voltage: 3 V to 5 V
Communication interface: I2C bus
Interface address: 0x40 / 0x41 / 0x44 / 0x45 (jumper selectable)
Equipped with current sensing resistor 0.1 Ohm 1% 2 W
Measurement ranges

maximum voltage measurement: from 0 V to 26 V DC
maximum current measurement: up to +/- 3.2 A with a resolution of +/- 0.8 mA

accuracy of measurements: up to 1%
Leads:

solder fields
STEMMA QT / Qwiic connectors

Dimensions: 25.6 x 20.4 x 4.7 mm
Contents of the kit
Bidirectional current/power sensor - INA219
Goldpin connectors - 2,54 mm pitch
Terminal connector - 1 pc.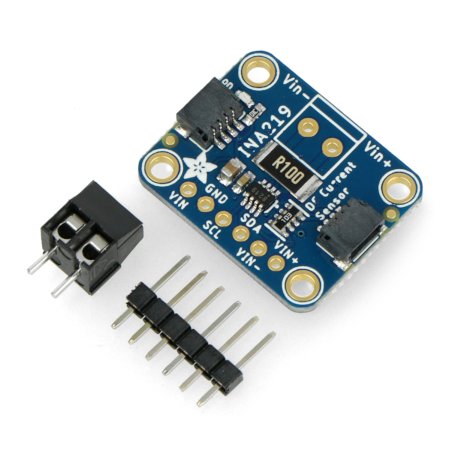 Bidirectional current/power sensor - INA219.
Take special care when connecting devices that can cause rapid current draw (such as DC motors). These can cause problems on the power lines.