Product description: GPS module NEO-M9N - built-in antenna - Qwiic - SparkFun GPS-15733.
NEO-M9Nhigh quality module with92 channelGNSS receiver and built-in antenna. It allows to receive signals fromGPS,GLONASS,BeidouandGalileowith an accuracy of1.5 m. It can process4 readingsat the same time, so it can precisely determine the position even in difficult conditions. For communication it usesUART,SPIandI2Cinterfaces, and built-inQwiicconnectors allow to connect the board with other elements without the need ofsoldering. In addition, the module has leads to which it is possible to soldergoldpinconnectors in case of a project witha prototype board. On the board there is a lithiumRTCbattery, which reduces time-to-first-fix. Power supply voltage is3,3 V.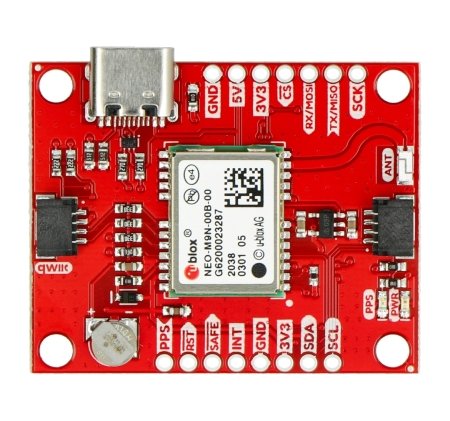 GPS module NEO-M9N from SparkFun.
GPS module NEO- M9N
The module communicates via theI2C,SPIorUARTinterface.It also has a Qwiic connector and goldpin connectors. On the back of the board there are four jumpers: I2C, PWR, PPS and SPI.
| Pin | Description |
| --- | --- |
| GND | The weight of the system. |
| 3V3 | Supply voltage 3.3 V. |
| SCL | I2C bus clock line. |
| SDA | I2C bus data line. |
| CS | SPI - Chip Select. |
| RX/MOSI | UART/SPI bus data line. |
| TX/MISO | UART/SPI bus data line. |
| INT | External interruption. |
| RST | Reset the system. |
| PPS | Number of pulses per second (Pulse Per Second). |
| SAFE | Safe booting (Safeboot). |
Technical specifications
Integrated antenna
92-channel GNSS receiver
Horizontal accuracy: 1.5 m
Maximum update frequency: 25 Hz (4 simultaneous GNSS)
TTFF (Time-To-First-Fix):
Maximum height: 80 000 m
Maximum G: ≤ 4
Maximum speed: 500 m/s
Speed accuracy: 0.05 m/s
Course accuracy: 0.3 degree
The accuracy of the time pulse: 30 ns
Power supply: 3.3 V VCC
Power consumption: ~ 31 mA (GPS + GLONASS tracking)
Configurable software:

Geofencing
Odometer
Spoofing Detection
External Interrupt
Pin Control
Low Power Mode
and many more

It supports protocols: NMEA, UBX and RTCM via UART or I2C interfaces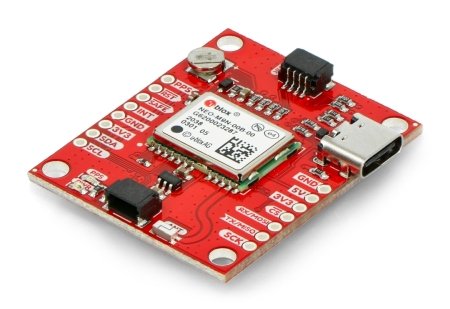 The board has a built-in antenna.