Product description: Grove thermocell analog temperature sensor
Grove module equipped with temperature sensor supplied with voltage from 3.3 to 5 V. The sensor uses a thermocouple with a K-type head and an amplifier which measures the ambient temperature with a thermistor. The circuit uses an analog signal for communication. The measuring range is from -50 °C to 600 °C. It has an analog output, which makes it compatible with most runtime modules, including Raspberry Pi and Arduino.
Connection
The module comes with a Grove interface for easy connection to Arduino with Base Shield v2.0 overlay or Raspberry with GrovePi+ Hat.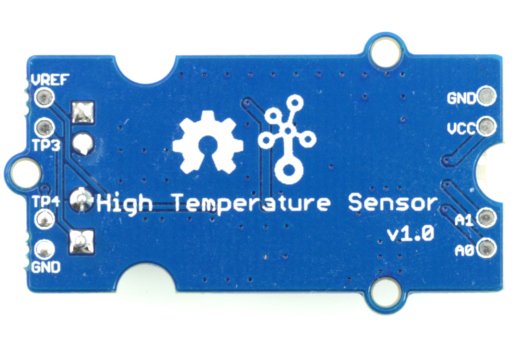 | Pin | Description |
| --- | --- |
| GND | GND |
| VCC | Supply voltage from 3.3 V to 5 V |
| A0 | Signal output A0 |
| A1 | A1 signal output |
Specification
Supply voltage: 3.3 V to 5.0 V
Maximum power at 25 °C - 300 mW
Amplifier output voltage range: from 0 V to 3.3 V
Temperature measurement range: from -50 °C to 600 °C
Operating temperature range: -40 °C to 125 °C
Accuracy of temperature measurement: +/- 2 %
Cable length: 100 cm
Dimensions: 110 x 85 x 12.5 mm
Weight: 30 g