Product description: Temperature sensor AS6212 I2C Qwiic - SparkFun SEN-18521
Module developed by SparkFun with AS6212 digital temperature sensor. The highly accurate AS6212 chip can measure temperature from -40°C to 125°C with an accuracy of ± 0.2°C, while consuming 6 µA of current. AS6212 communicates via I2C interface, there is a Qwiic connector on the board allowing easy connection of the module to a board with the same connector and standard holes for soldering goldpin type connectors with 2.54 mm pitch. Module is powered from 1.7V to 3.6V.
A detailed user guide is available on the manufacturer's website, which greatly facilitates getting started with the module.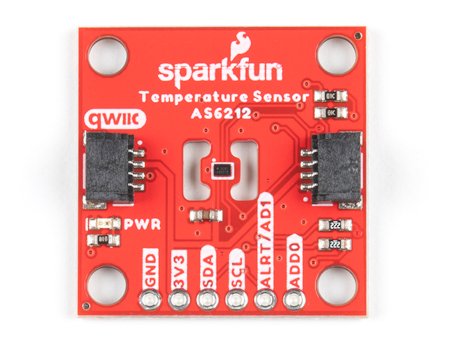 AS6212 temperature sensor module.
Pinouts of AS6212 sensor module
SparkFun module with AS6212 sensor communicates with microcontroller via I2C interface. The board is equipped with two Qwiic connectors which allow for quick and easy connection to a module with the same interface. Apart from Qwiic connectors, it is also equipped with holes for soldering standard goldpin type connectors with 2.54 mm pitch. On the board there are pins like:
GND - chip ground
3V3 - supply voltage 3,3 V
SDA - I2C interface data line
SCL - I2C interface clock line
ALRT/AD1 - hardware interrupt
ADD0 - hardware interrupt
AS6212 temperature sensor specification
Communication interface: I2C
Eight selectable I2C addresses (default 0x48)
Operating temperature: from -10°C to 125°C
High measurement accuracy:

± 0.2°C when ranging from -10°C to 65°C
± 0.3°C from -40°C to -10°C and from 65°C to 85°C
± 0.5°C from -85°C to 125°C

Supply voltage: 1.7 V to 3.6 V
Low current consumption:

typical: 6 µA
Standby: 0.1 µA

Dimensions: 25.4 x 25.4 mm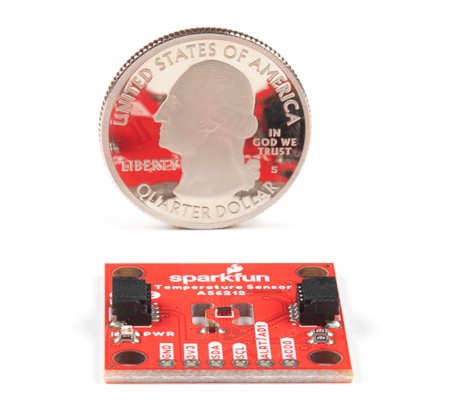 AS6212 temperature sensor with Qwiic connector.