Description
Four-channel driver for DC motors and stepper motors, designed with a microcontroller DFRobot FireBeetle STM8S105 for IoT projects. It enables the control of four DC motors or two phase, foour-wired stepper motors. The module communicates via IIC interface, it supports refresh frequency up to 1000 Hz. Supply voltage is from 3.3 V to 5 V, the voltage of the motors is from 4 V to 12 V. Continuous current per channel is 1.2 A at a voltage of 5 V, short-time current is 3.2 A at 5 V. The driver also allows you to control fourservos.
Communication
The module communicates with IIC interface, it can be controlled usingArduino UNO,MegaorFireBeelte ESP32/ESP8266.
The product is compatible with Arduino
Sample code and detailed information can be found inthe user guide.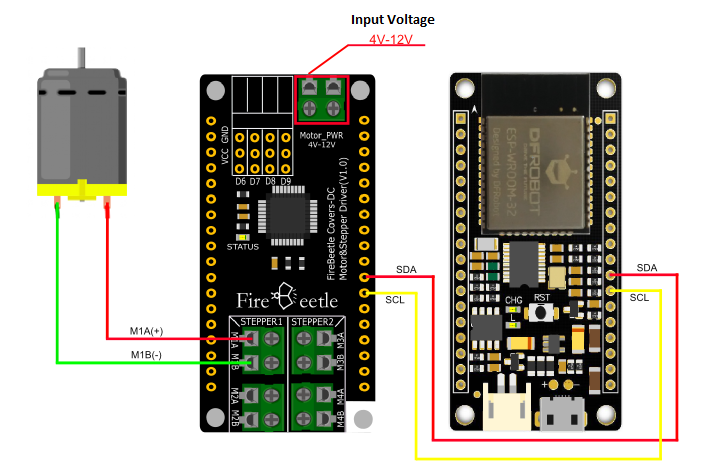 Example of connecting the motor to the FireBeetledriver. Library for Arduino can be downloaded fromthe manufacturer's website.
Key features
It supports four DC motors
It supports two 2-phase, 4-wire stepper motors
It supports four servos
The refresh frequency is up to 1000 Hz
It has the status LEDs
Specification
Microprocessor: STM8S105
Working voltage: 3.3 V to 5 V (connection of a FireBeetle to the terminal VCC)
Current: 30 mA
Motor driver: TB6612FNG
The voltage of control of motor: 4 V to 12 V
Output current: 1.2 A per channel
Initial / short-time current: 2 A / 3.2 A (short-term)
Communication interface: IIC
IIC address: 0x18
Dimensions: 58 x 29 mm
Set includes
1x motor driver of FireBeetle
2x goldpin female strip 18-pin 2.54 mm
2x goldpin male strip 18-pin 2.54 mm