‌
Product description: reComputer J4012 - Nvidia Jetson Orin NX 16GB RAM + 128GB NVMe - Seeedstudio 110110145
The reComputer J4012 minicomputer is based on the Nvidia Jetson Orin NX 16GB, a powerful and compact intelligent edge device. Delivers up to 100 TOPS edge AI performance, offering more than 5x the performance of Jetson Xavier NX and 3x the performance of Jetson AGX Xavier. Combining the Nvidia Ampere architecture with 64-bit support, Jetson Orin NX integrates advanced multi-functional video and image processing and Nvidia Deep Learning accelerators. The device is equipped with 16 GB of RAM and 128 GB of external NVMe SSD memory.

The complete kit includes the Nvidia Jetson Orin NX 16GB module, heatsink and power supply. Nvidia JetPack 5.1 is installed on the reComputer J4011, which simplifies development and allows the implementation of Edge AI solutions working in video analytics, object detection, natural language processing, medical imaging and robotics in various industries of smart cities, security, industrial automation, smart factories .
Main features of the reComputer J4012 module
Outstanding AI performance : On-device AI performance up to 70 TOPS with low power consumption and low latency.
Palm-sized edge AI device : compact in size 130 x 120 x 58.5mm, includes Nvidia Jetson Orin NX 8GB module, heatsink, chassis and power supply.
Expandable through rich I/O : 4x USB 3.2, HDMI 2.1, 2x CSI, 1x RJ45 Gigabit Ethernet, M.2 Key E, M.2 Key M, CAN and GPIO.
Fast-to-market : pre-installed Nvidia JetPack on included 128GB NVMe SSD, Linux BSP operating system, WiFi BT combo module, 2x antenna, support for Jetson software and leading AI software frameworks and platforms.
Computer Vision, Machine Vision and Speach AI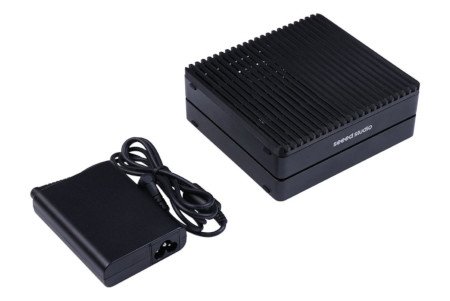 The reComputer J4012 comes with a power adapter ( power cord must be purchased separately).
Pre-installed Nvidia JetPack
The Nvidia JetPack SDK provides a complete development environment and includes CUDA-X-accelerated libraries and other Nvidia technologies to accelerate development. JetPack includes the Jetson Linux Driver Pack which provides the Linux kernel, boot loader, Nvidia drivers, flashing tools, sample file system and toolchains for the Jetson platform. It also includes security features, over-the-air upgradeability, and much more.
Kit contents
Nvidia Jetson Orin NX 16GB module
Seeed carrier plate
128GB NVMe SSD
Aluminum radiator with fan
Aluminum housing (black)
Power adapter 12 V / 5 A (DC 5.5 / 2.5 mm, power cord not included)
Interfaces in reComputer Jetson
The J4012 is a small board with a rich interface and high performance that allows you to bring new possibilities to all embedded AI and edge systems.
Control and UART connector
RTC 2-pin connector
2x MIPI-CSI camera connector
4x USB 3.0 ports
HDMI and DisplayPort ports
DC jack power connector
CAN port
Fan connector
40-pin GPIO connector
260-pin SO-DIMM connector
PoE connector
Gigabit Ethernet port
Led
USB Type-C
M.2 Key E connector
RTC coin cell battery basket
M.2 Key Connector M
SPECIFICATION AND COMPARISON
Product
reComputer J4011
reComputer J4012
Module
Jetson Orin Nano 8GB
Jetson Orin Nano 16GB
AI performance
700 TOPS
700 TOPS
GPU

Nvidia Ampere 1024 cores with 32 Tensor Cores

GPU clock
765MHz
918MHz
CPU
6 Core Nvidia Arm Cortex A78AE v8.2 1.5MB L2 + 4MB L3
8 Cores Nvidia Arm Cortex A78AE v8.2 2MB L2 + 4MB L3
CPU clock speed

2GHz

RAM
8GB 128-bit LPDDR5 102.4GB/s
16GB 128-bit LPDDR5 102.4GB/s
DL accelerator
1x NVDLA v2
2x NVDLA v2
Maximum DLA frequency

614MHz

Vision Accelerator

1x PVA v2

Memory

(supports external NVMe devices)

video encoder

1x 4K60 (H.265) | 3x 4K30 (H.265)

6x 1080p60 (H.265) | 12x 1080p30 (H.265)

Video decoder

1x 8K30 (H.265) | 2x 4K60 (H.265) | 4x 4K30 (H.265)

9x 1080p60 (H.265) | 18x 1080p30 (H.265)

display

1 x HDMI 2.1

CSI camera

2x CSI (2-lane 15-pin)

Network

1x Gigabit Ethernet (10 / 100 / 1000 Mbps)

USB

4x USB 3.2 Type A (10Gbps)
1x USB 2.0 Type-C (Device Mode)

M.2 Key M

1x M.2 Key M

M.2 Key E

1x M.2 Key E

Fan connector

1x 4-pin (5V PWM)

CAN

1x CAN

Multi-functional port

1x 40-pin expansion connector, 1x 12-pin control and UART connector

RTC

2-pin, RTC socket for CR1220 battery (not included)

Supply voltage

from 9V to 19V

Power

DC 12V/5A (DC Jack 5.5/2.5mm)

Working temperature

from -10°C to 60°C

Dimensions

130x120x58.5mm