‌
Product description: Brass thread - insert for 3D printing - various sizes - set of 50 pieces - justPi
A set of 50 brass threads in various sizes for embedding in ready-made 3D models. This solution allows e.g. it is easy to combine individual prints , omitting the complicated and time-consuming threading process. It is enough to melt the filament locally, and then place the threaded insert in the model in the right size. When the plastic solidifies again, the metal element will be firmly embedded in it, allowing you to connect the elements with screws . The threads have been placed in an organizer for easy storage.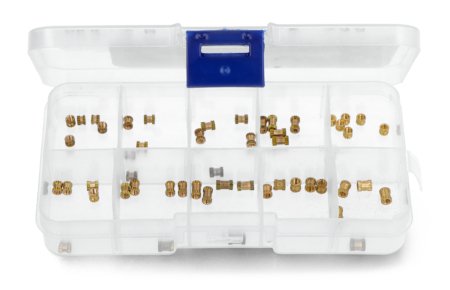 Set of 50 brass threads for 3D models.
Kit contents
M2 x 3 - 5 pieces
M2 x 4 - 5 pieces
M2 x 5 - 5 pieces
M2 x 6 - 5 pieces
M2.5x3 - 5 pieces
M2.5 x 4 - 5 pieces
M2.5 x 5 - 5 pieces
M2.5 x 6 - 5 pieces
M3 x 4 - 5 pieces
M3 x 5 - 5 pieces
Technical Specifications
Manufacturer: justPi
Material: brass
Purpose: combining ready-made printouts
Number of pieces in the set: 50 pieces
The simplest method of thread installation in the model is to melt it with a hot soldering iron .