Description: Lens set M12 1.56-25mm for Raspberry camera + CS and C-CS adapter - 6pcs. - ArduCam LK003
A set of 6 M12 Mount lenses with fieldsof view from20° to 180° and focal lengthsfrom 1.56 mm to 25 mm.The kit also includes an adapter that allows the use of CS and C-CS mount lenses for microscopy in combination with Raspberry Pi V1 and V2 cameras, and reverse camera mount. The lenses are compatible with Raspberry Pi HQ camera.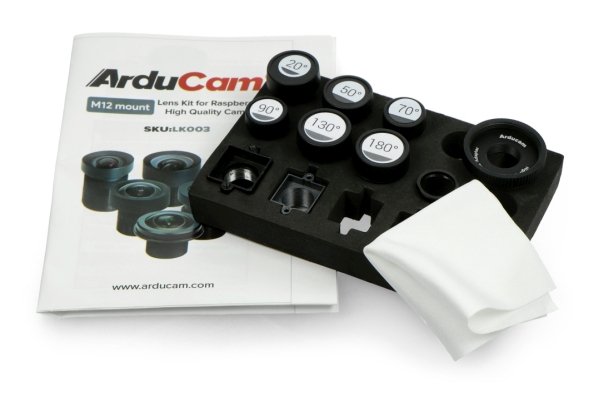 Set of 6 lenses for Raspberry camera.
Lens specification
Model M25156H18:

Format: 1/2.3".
Focal length: 1.56 mm
Aperture: F2
Angle of vision: 180° (H)
Installation: M12 Mount
Rear focal length: 4.3 mm
M.O.D (minimum distance from object): 0,2 m
Dimensions: Φ 20

x 17.3 mm

Weight: 7 g
Model M23280H13:

Format: 1/2.3"
Focal length: 2.8 mm
Aperture: F2.4
Angle of vision: 130° (H)
Installation: M12 Mount
Rear focal length: 5.65 mm
M.O.D (minimum distance from object): 0,2 m
Dimensions: Φ 18

x 17.9 mm

Weight: 8 g
Model M23356H09:

Format: 1/2.3"
Focal length: 3.56 mm
Aperture: F2.5
Angle of vision: 90° (H)
Installation: M12 Mount
Rear focal length: 5.92 mm
M.O.D (minimum distance from object): 0,2 m
Dimensions: Φ 14

x 16.3 mm

Weight: 7 g
Model M23430M14:

Format: 1/2.3"
Focal length: 6 mm
Aperture: F2
Angle of vision: 70° (H)
Installation: M12 Mount
Rear focal length: 3.62 mm
M.O.D. (minimum distance from object): 0,3 m
Dimensions: Φ 14

x 19.58 mm

Weight: 8 g
Model M2306ZM13:

Format: 1/2.3"
Focal length: 8 mm
Aperture: F2
Angle of vision: 50° (H)
Installation: M12 Mount
Rear focal length: 7.56 mm
M.O.D. (minimum distance from object): 0,3 m
Dimensions: Φ 16

x 16.41 mm

Weight: 6 g
Model M2025ZM02:

Format: 1/2.3"
Focal length: 25 mm
Aperture: F2
Angle of vision: 20° (H)
Installation: M12 Mount
Rear focal length: 5.2 mm
M.O.D (minimum distance from object): 0,2 m
Dimensions: Φ 17

x 21 mm

Weight: 8 g
The set includes
1/2.3" M12 Mount 180° lens
1/2.3" M12 Mount 130° lens
1/2.3" M12 Mount 90° lens
1/2.3" M12 Mount 70° lens
1/2.3" M12 Mount 50° M12 Mount
1/2.3" M12 Mount 20° lens