Product description: Digital ambient light sensor - VEML7700 - I2C - angular - STEMMA QT / Qwiic - Adafruit 5378
Digital ambient light sensor from Adafruit . It was based on the VEML7700 chip, which allows it to measure in the range from 0 lux to 120 klux . Unlike standard sensors, it detects light entering parallel to the surface of the circuit board. It has a STEMMA QT / Qwiic connector and solder pads - an alternative connection method.
The product is compatible with Arduino and Raspberry Pi
The manufacturer provides a detailed user guide . You will find, among others, a description of individual outputs, sample program codes and free libraries.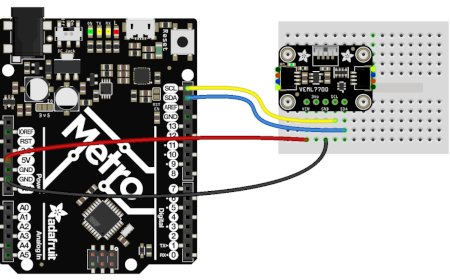 An example of connecting the module with the Metro board. The contact plate and the Metro plate are not part of the set - they can be purchased separately.
Description of the pins of the board
The board has two connection options - using standard solder pads to which the goldpin strips included in the kit should be soldered, or using STEMMA QT / Qwiic connectors, which do not require soldering.
VIN - supply voltage from 2.7 V to 5.5 V
GND - the ground of the system
SDA - data line of the I2C bus
SCL - clock line of the I2C bus
VOUT - analog output.
Kit contents
Digital ambient light sensor - VEML7700 - I2C - angular - STEMMA QT / Qwiic - Adafruit 5378 - 1 piece
1x5 goldpin strip - 2.54 mm raster - 1 pc
Technical specification of the sensor
Type: Ambient Light Sensor
Built-in chip: VEML7700
Type: digital
Measurement angle: detects light entering parallel to the plate's surface
Supply voltage: 3 V to 5 V
Measurement range: 0 lux to 120 klx
Resolution: 12-bit
Communication interface: I2C bus
Interface address: 0x10
Gain and Integration Time: Software Adjustable
Supported development environments: Arduino (C / C ++) and CircuitPython (Python 3)
Connectors: STEMMA QT / Qwiic, solder pads
Operating temperature range: -25 ° C to 85 ° C
Tile sizes: 25.5 x 17.7 x 4.6 mm
Weight: 1.9 g