Product description: TMP117 - I2C temperature sensor - high precision - STEMMA QT / Qwiic - Adafruit 4821
High precisiontemperature sensorfrom Adafruit. It has an embeddedTMP117chip that provides accurate measurement in the range of-55°C to 155°C, with an accuracy of0.1°C to 0.3°C(depending on the temperature value). It is powered from 3 V to 5 V DC. The sensor is compatible with Arduino and Raspberry Pi, it can be programmed usingArduino IDEenvironment or usingPythonlanguage.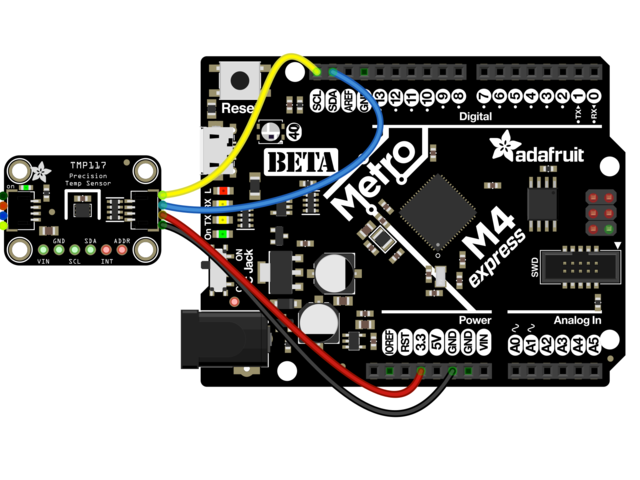 Connection diagram of temperature sensor from Adafruit using STEMMA QT / Qwiic connector andMetro board.
Pinouts of TMP117 temperature sensor
The sensor can be connected in two ways. The first is via the solder pads, to which agoldpinstrip with a 2.54 mm pitch must be soldered. Alternatively, the sensor is also equipped withSTEMMA QT /Qwiicconnector, which allows for quick and convenient connection of the module without soldering. The picture on the right shows how to connect the sensor using STEMMA QT / Qwiic connector and Metro board -equivalent of popular Arduino board.
VCC- power supply pin from 3V to 5V DC
GND- system ground pin
SCL- I2C logic pin, communication interface clock line pin
SDA- I2C logic pin, communication interface data line pin
ADDR/AD0jumper - configurable I2C address pin, allows to change interface address from 0x48 to 0x49
INT- interrupt pin
Technical specification of temperature sensor from Adafruit
Module: high precision temperature sensor
Chip: TMP117
Compatible with Arduino and Raspberry Pi
Supply voltage: from 3 V to 5 V
Temperature measurement range: from -55°C to 155°C
Measurement accuracy:

± 0.1°C (maximum) from -20°C to +50°C
± 0.15°C (maximum) from -40°C to +70°C
± 0.2°C (maximum) from -40°C to +100°C
± 0.25°C (maximum) from -55°C to +125°C
± 0.3°C (maximum) from -55°C to +150°C

Resolution: 16 bits
Communication interface: I2C
Interface address: 0x48
Connectors:

STEMMA QT / Qwiic
Soldering fields for goldpin leads

Dimensions: 25.5 x 17.7 x 4.6 mm
Set contents
TMP117 temperature sensor
Goldpin strip - 2.54 mm pitch