Description
Kit for soldering electronic components.Includes soldering stationandholder with magnifier, tin with calaphony, two pairs of tweezers (straight and curved) for holding soldered element andthe extractor and two replacable tips.
No.
Photo
Description
1
ZD99 soldering iron station - 48W- Grotto soldering station with flask. Has the ability to adjust the temperature in the range from 150 °C to 450 °C. The total power is 48 W.
2
The extractor - d

evice to remove the excess of tin. Has a metal body with a diameter of 20 mm,

the length

of the device is 190 mm.

3
Holder with magnifying glass - third hand ZD10D- mounting handle

 with a magnifying glass that magnifies about 2.0 diopters, and two clamps to facilitate soldering.

4
Tin in vial 16g / 1.00 mm-

Tin in the vial with a diameter of 1.00 mm and a weight of 16 grams.

5
Calaphony 40 g- flux

 with the addition of activators to facilitate soldering.

6
Braid- to remove excess of the tin.
7
Flux in gel 5 cm3- used interchangeably to calaphony, helps soldering.
8
Side cutters - allow trimming the protruding legs of the elements after their soldering. Color and shape may vary from the settings shown in the picture but the functionality remains.
9
Tip for soldering station type 79-3121-

 works with i.a. stations: ZD99, ZD8906, etc.

10
Tip for solder station type 79-3111- works with i.a. stations: ZD99, ZD8906, etc.
11
The non-magnetic curved tweezers VetusESD15 - 116mm-non-magnetic t

weezers of stainless steel. Symbol: Vetus HRC40 ESD15. Length: 116 mm.

12
The non-magnetic straight tweezers Vetus ESD12 - 135mm-non-magnetic t

weezers of stainless steel. Symbol: Vetus HRC40 ESD-12. Length: 135 mm
Technical characteristics of the station ZD99
Power Supply: 230 V / 50 Hz
Power consumption: 48 W
Temperature range: from 150 °C to 450 °C
Dimensions: 115 x 145 x 90 mm (198 mm with handle)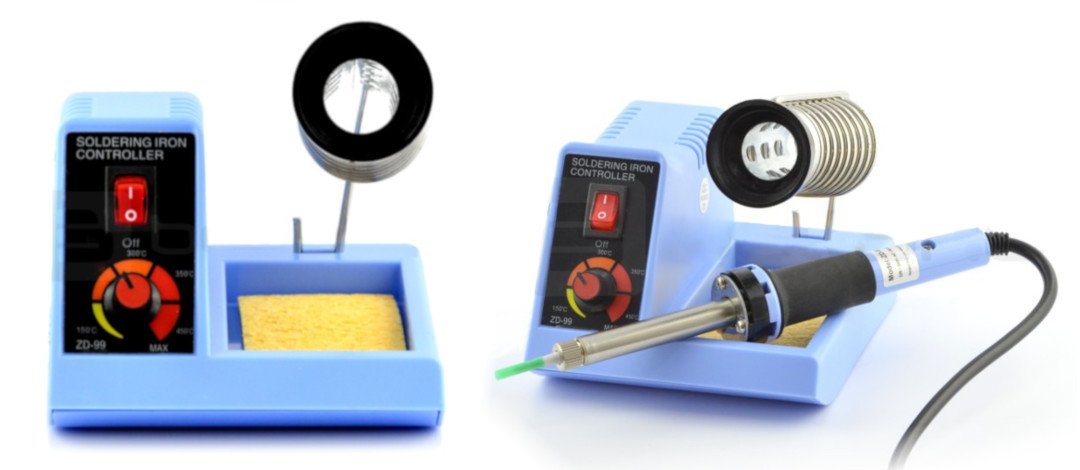 First run
After delivery of equipment, it should not be immediately started.
Equipment must remain about 12 hours at room temperature before switching on.
All applications for damages caused by the premature commissioning of the equipment will be denied.