Attention!
The product has been discontinued. Check other products in category.
Product description: Arducam Pan Tilt Platform - 2 DOF platform for Raspberry Pi camera - Arducam B0227
Set with 2 DOF control platform for Raspberry Pi camera. The platform is based on two digital servos which allow to change position of the camera in two planes:vertical 145°andhorizontal 180°. The servos are controlled by a PWM board with a PCA9685 12-bit PWM controller. This makes it possible to observe places and objects that should be monitored from different angles by several cameras at once.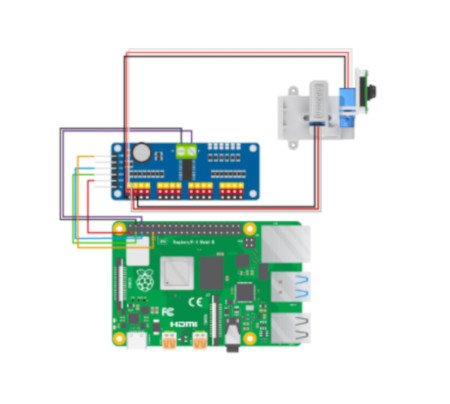 Connection diagram of the platform with Raspberry Pi and camera.
Technical specifications
Servo: digital
Angle of rotation:

vertical: 145°
horizontal: 180°

Torque:

0.6 kg*cm at 3.6 V
0.8 kg*cm at 4.8 V

Working speed:

0.13 s/60° at 3.6 V
0.09 s/60° at 4.8 V

Operating voltage: 3.6 V to 4.8 V
Operating current: <350 mA
Dead Band: 3 usec
Dimensions: 20 x 8.75 x 22 mm

PWM control board

PWM Controller: PCA9685
PWM resolution: 12 bits
Ambient light sensor: TSL2581FN
Ambient light resolution: 16 bits
Communication interface: I2C
Operating voltage: 3.3 V / 5 V
Dimensions: 25 x 61 mm
Application
IoT cameras
Robot cameras
Security and surveillance projects
Projects using Raspberry Pi
Set contents
Digital servo - 2 pcs.
Bracket kit with screws
PWM control board
Female to female interconnect cables - 4 pcs.
Male-female connection wires - 2 pcs.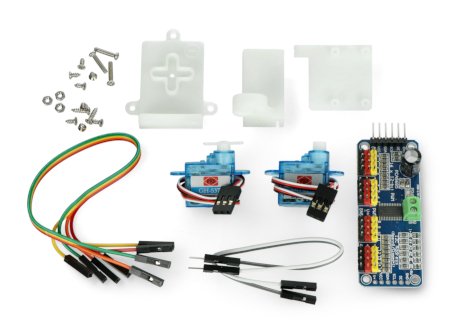 The kit includes the necessary connection wires.