Attention!
The product has been discontinued. Check others products in category.
Description
A set of core prototype elements and tools needed to run minicomputer Raspberry Pi. The kit includes the case, power supply and memory card with the operating system, a large breadboard 830 fields with wires, the module leading out the GPIO pins of raspberry and relay, temperature sensor, LEDs and buttons.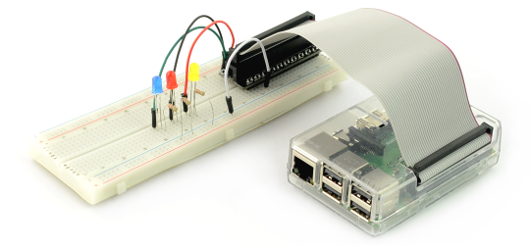 The set does not contain minicomputer Raspberry Pi, it can be purchased separately by clicking on the description of the product.
What's in the kit?
Thanks to the included elements, the user can runminicomputer Raspberry Pi, get acquainted with the digital ports by lighting the individual LEDs. Included in the set buttons allow you also to create a simple interface.Largebreadboard along with the module ProtoPi, allow you to implement more complex projects in the future. The relay provides the control of the elements with a larger current consumption and a DS18B20 sensor indicates the current ambient temperature.
Set includes 13 elements: