Product Description: Adhesive coating for 3D printing - 110ml
Adhesive coating is a transparent adhesiveinthe form of a liquid substance, which serves toincrease the adhesion of the printout to thetable of 3D printers.It forms a coating that increases the adhesion between the table and the filament. It is designed for ABS, ASA, HIPS, PLA, PET-G, TPUmaterials.For use on glass or aluminium tables.
Adhesion- it is a combination of surface layers of physical bodies or phases (solid / liquid).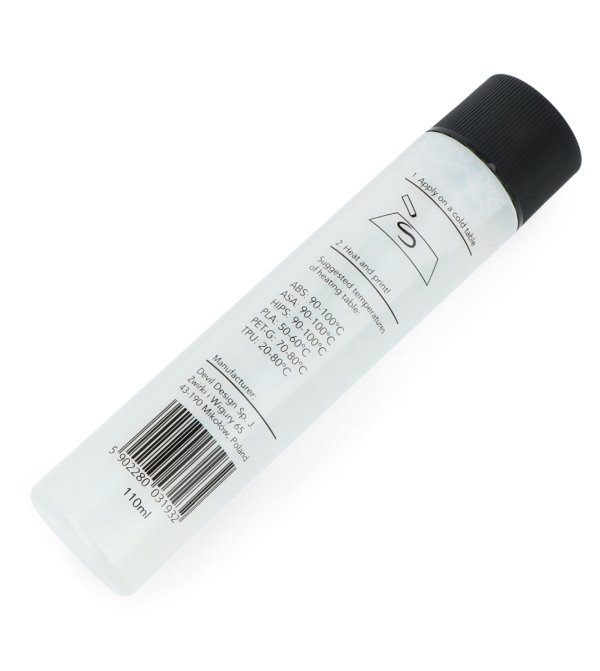 Adhesive coating Devil Design for 3D printing.
Application
Apply a thin layer of adhesive to the printer's cold table.
Warm the table to the correct working temperature.
Wait for the adhesive to dry, about 2 to 3 minutes.
After 3D printing is complete, wait until the table and the printout has cooled down to room temperature. The printed object should be carefully undermined with a spatula.
Suggested working temperatures
Material
Table temperature
ABS
From 90°C to 100°C
ASA

From 90°C to 100°C

HIPS

From 90°C to 100°C

PLA

From 50°C to 60°C

PET-G

From 70°C to 80°C

TPU

From 20°C to 80°C
Adhesive coating specification
Parameter
Scope
Colour
Clear
Designed for materials
ABS, ACE, HIPS, PLA, PET-G, TPU
Application
Glass / aluminium
Water washable
Yes
Consistency
Sticky
The scent
Vanilla
State of aggregation
Liquid
Packaging dimensions
36 x 36 x 167 mm
Capacity
110 ml