Product description: Arduino UNO Mini Limited Edition - ABX00062
A limited collector 's edition of popular Arduino UNO board. It is a miniaturized but fully functional version of the well known Arduino UNO. The Arduino UNO Mini LE board is made in black with gold and comes in an elegant design and packaging. Each manufactured board has its own PCB number and includes a hand signed letter from the Arduino founders. The miniature version of the Arduino Uno was created to celebrate the Arduino community and the many years of work by the entire team.
Offer valid while supplies last, product will no longer be available!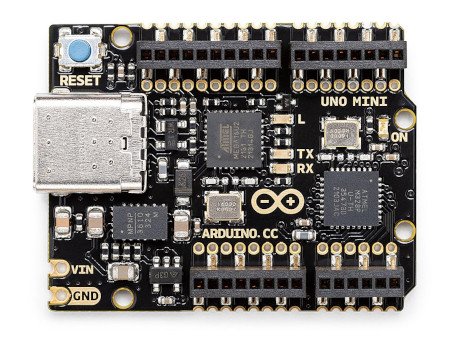 Arduino UNO Mini - collector's edition.
Main features of Arduino UNO Mini LE
Arduino UNO Mini Limited Edition is a miniaturized version of the popular Arduino UNO board. The module is based on the chip ATmega328P It is equipped with USB type C connector for programming and board power supply, as well as available pins for connecting external power source. The board has preinstalled female pins, built-in LED, reset button and all other elements known from standard UNO board, but placed on only 25% of board's dimensions.
ATmega328P - classic, efficient microcontroller with low power consumption.
Small size - Arduino UNO LE (Limited Edition) is 25% size of standard Arduino UNO board.
Pin Raster - The pin spacing is 0.05" or 1.27 mm. This is half the distance compared to the classic UNO board (0.1" or 2.54 mm).
EEPROM - the ATmega328P is equipped with 1 kb of EEPROM memory, which is not erased when power is removed.
Arduino UNO Mini Limited Edition Specification
Microcontroller
ATmega328P
Connector
USB type C
Embedded LED pin
13
Number of digital I/Os
14
Number of analog inputs
6
PWM pins
6
UART
yes
I2C
yes
SPI
yes
Logic voltage
5 V
Input voltage
6 V to 21 V
Battery connector
none
Current capacity / I/O pin
20 mA
Current capacity 3.3 V pins
50 mA
ATmega328P clocking
16 MHz
ATmega16U2 clocking
16 MHz
Memory: ATmega328P

SRAM: 2 kB
Flash: 32 kB
EEPROM: 1 kB

Dimensions
34.2 x 26.7 mm
Weight
8,05 g