Product description: Arducam IoTai ESP32 CAM - ESP32 WiFi/Bluetooth module with OV2640 camera - Arducam B0192
The ArducamESP32IoTai module is a solution forInternet of Things(IoT) andArtificial Intelligence(AI) projects. The board has been equipped with4MBof external PSRAM increasing RAM memory and enabling image capture and processing. The ESP32 chip supportsWiFi 802.11 b/g/n/e/i andBluetooth 4.2wireless communication. The camera interface allows to connect many other cameras such as OV2640, OV7670, OV7725, etc.OV2640camera is used in the module. The board can be programmed in Arduino IDE and ESP-IDF environments and has pinout compatible withArduino Uno. Module is equipped withUSB to UART converter.The device was also designed to be battery powered. There is also amemory cardslot on the board for more advanced applications that require more memory. Based on the open source library, it is possible to develop face and object recognition applications at a low frame rate. Its low power consumption makes it ideal for home automation solutions and IoT applications.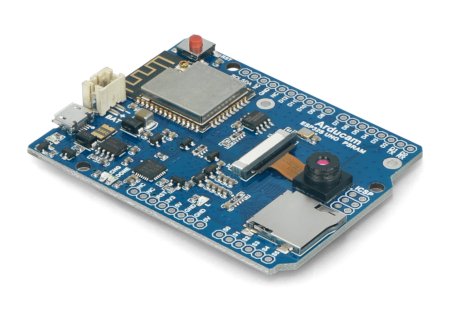 Arducam ESP32 IoTai CAM Module.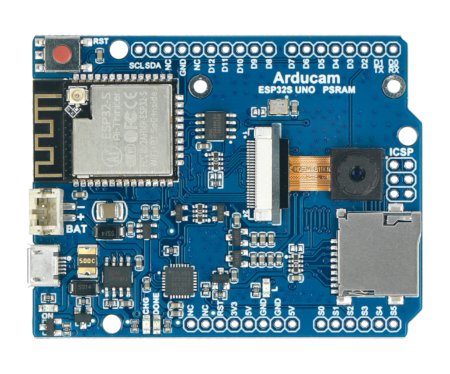 Arducam module equipped with ESP32S chip and OV2640 camera.
Main features of Arducam EPS32 IoTai module
Based on ESP32S module with extended PSRAM memory of 4 MB and built-in OV2640 camera with 2 Mpx resolution.
Fully compatible with WiFi 802.11 b/g/n/e/i and Bluetooth 4.2.
Programmed with Arduino IDE and ESP-IDF.
Pin layout compatible with Arduino Uno.
Powered by microUSB connector or lithium battery.
Supports face and object recognition at low frame rate.
Arducam module specifications
Chip: ESP32S
Communication: WiFi 802.11 g/n/e/i and Bluetooth 4.2
PSRAM:4 MB memory
Flash memory: 32 Mb
Camera: OV2640
Resolution: 2 Mpx
Number of I/O: 24
I/O voltage: 3.3 V
The number of PWM: 16
Number of SigmaDelta channels: 8
2-channel DAC
3.7 V battery power supply
Charger circuit 3.7 V / 500 mA max.
Built-in microSD slot
Built-in USb to UART converter
Supports Arduino IDE and ESP-IDF
Kit contains
1x Arducam ESP32 IoTai module
Goldpin connectors
2-pin battery connector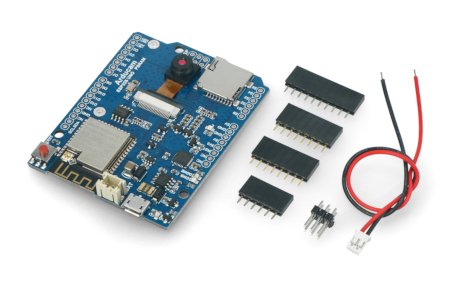 Arucam ESP32 kit contents.