Product description: Arduino Portenta H7 - ABX00042
The first representative of a new Arduino family designed for professional IoT applications in industry - Portenta H7 is a small, extremely powerful and energy-efficient board featuring STM32H747 microcontroller based on ARM Pelion technology. The chip is equipped with two cores: Cortex-M7 and Cortex-M4 clocked at up to 480 MHz and up to 240 MHz. With this design, the Arduino Portenta H7 is able to perform two independent tasks. Arduino has announced that wholesale buyers will be able to customize the board's parameters.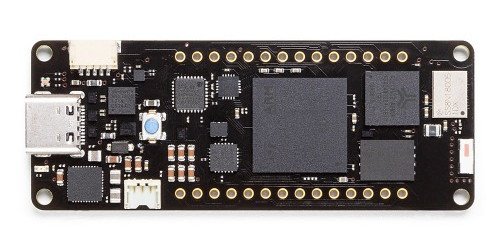 Arduino Portenta H7 module - top view.
Multitasking and flexibility
Thanks to the use of two parallel cores, which can communicate with each other thanks to the Remote Procedure Call mechanism, which allows to call functions between cores. Portenta H7 is able to perform independent tasks in parallel. While one core is busy computing a complex algorithm, the other can perform low-level tasks, such as motor control. Using the board, processes created with TensorFlow™ Lite machine learning and neural networking software can be easily run. Using such an advanced architecture allows the inconspicuous looking board to run applications, programs and code:
Arduino (using Arm® Mbed™ OS)

Mbed™

Micropython / Javascript

TensorFlow™
Graphics accelerator and interfaces
Undoubtedly an interesting feature is the use of a chip with a built-in graphics accelerator. Thanks to the STM32H747 microcontroller GPU, Portenta H7 has the ability to connect an external monitor, which combined with the Portenta Carrier expansion board allows you to create an eNUC-class computer from a small board. The GPU also has an encoder and JPEG decoder. The board is equipped with Bluetooth 5.1 LE and WiFi 65 Mbps connectivity (can work as Acces Point, Client or both simultaneously). Communication via LoRa, LTE Cat-M and NB-IoT standards is also possible.
New standard of connectors
PortentaH7 is a new standard of connectors. There is an 80 pin connector set on the underside of the PCB. This provides the board with versatility when used in projects of various sizes, needing fewer or more connectors. Another advantage of Portenty H7 is its compatibility with MKR series, both in terms of leads and board size. The new Arduino comes with a USB Type C port with integrated Display Port.
Portenta H7 Arduino board specification
Parameter
Range
Microcontroller

STM32H747XI dual Cortex®-M7+M4 32bit Arm® MCU

Wireless communication module

Murata 1DX WiFi 802.11b/g/n 65 Mbps and Bluetooth 5.1 BR/EDR/LE

Cryptographic chip

NXP SE0502

Supply voltage (USB/Vin)
5 V
Battery power supply
Li-Pol 3.7 V, minimum capacity 700 mAh (built-in charger)
Pin operating voltage
3,3 V
Current consumption
2.95 uA in idle mode
Video Connector
MIPI DSI host and MIPI D-PHY
GPU
CHrom-ART Hardware Graphics Accelerator™
Counters
22 counters and watchdog chips
UART
4 ports (2 controllable)
Ethernet PHY
10 / 100 Mbps (available with Portenta Carrier Board)
SD card slot
Yes (available with Portenta Carrier Board)
Operating temperature

-40°C to +85°C (version without WiFi/Bt)
-10°C to +55°C (version with WiFi/Bt)

MKR connectors
Possibility to use Arduino MKR extensions
New connectors
Two 80-pin connectors
Camera interface
8-bit, up to 80 MHz
ADC
3 x ADC with 16-bit maximum resolution (up to 36 channels, up to 3.6 MSPS)
DAC
2 x 12-bit DAC (1 MHz)
USB Type-C Port
Host / Device, integrated Display Port, USB High/Full Speed / Power Delivery
Arduino Portenta H7 - ABX00042
The Arduino Portenta H7 board - ABX00042 - will allow you to perform demanding programming tasks in real time. The well-known manufacturer - Arduino - has designed this board to be convenient and functional for programming.
Portenta H7 can work as a standard microcontroller board or as the main processor of an embedded computer. Portenta's functionality can be enhanced by purchasing compatible expansion modules, such as the Portenta Vision Shield (you can find them all in the Botland store).
Arduino Portenta H7 board - freedom of action
The Arduino Portenta H7 minicomputer is multi-tasking and versatile. Two cores can work in parallel, but also communicate with each other thanks to innovative Remote Procedure Call technology. This allows you to perform different programming activities - together or completely independently of each other, but always at the same time!
The board has been enhanced with a number of development technologies - Mbed, TensorFlow, Arm Mbed and others. It will give a lot of freedom and a lot of computing power to embedded systems enthusiasts!