Description
Grovemodule with a monochromeOLED 0,96"display with a resolution of128 x 64 px. It communicates throughI2Cinterface and is based on theSSD1308Z system. The product is fully compatible with Arduino. The manufacturer provides on its website a detailed manual, along with sample source codes. The kit includes a cable adapted to Seeedstudio Base Shield v2.0.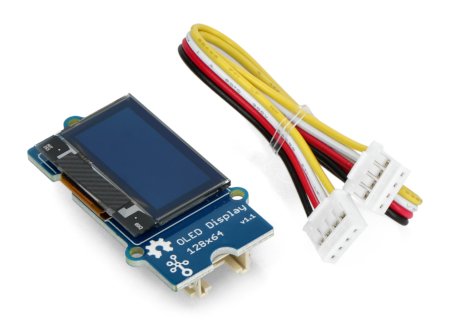 Module supplied with 4-pin cable for Base Shield v2.
OLED technology provides high brightness, contrast, narrow frames, broad vision angles and a range of operating temperatures at relatively low energy consumption. The main feature that distinguishes OLED display from LCD is that they are made up of small colored LEDs that emit light and thus it does not require additional lighting and black pixelsdo not consume energy (they are disabled).
Pins
The module is equipped with Grove interface, which facilitates its connection to Arduinoalong with Base Shield v2.0.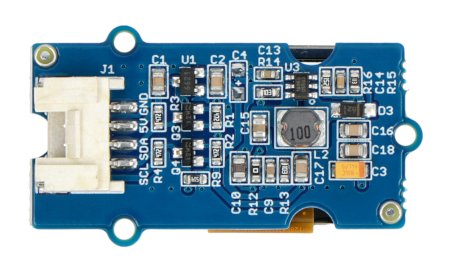 | Pin | Description |
| --- | --- |
| 5V | Powered by 3.3 V to 5 V. |
| GND | The ground of the system. |
| SCL | Clock line of I2C interface. |
| Traffic | Data line of I2C interface. |
Specification
Working voltage: from 3.3 V to 5.0 V
Driver: SSD1308Z (documentation)
Communication: I2C (address 0x3C)
Display type: OLED
Diagonal: 0,96 "
Resolution: 128 x 64 px
Color: white
The viewing angle: above 160 °
Operating temperature: -20 °C to 70 °C
Connector: Grove
Dimensions: 26,7 x of 19.26 mm
Weight: 10 g