Product description: HAT Hacker - Raspberry Pi pinout expander - Pimoroni PIM511
Overlay forRaspberry Piby Pimoroni. The module is equipped withtwo 40-pin goldpin stripsto which two overlays can be connected at the same time. It is ideal for prototyping, debugging or connectingmini HATsor other circuits. Because the overlay sits directly on the GPIO pins of the Raspberry Pi minicomputer, it is a neat solution for permanent mounting in projects that requiretwoHAT overlaysto be connected. The holes created allow for mounting spacers to separate the overlay from the minicomputer. All GPIO pins on the overlay arelabeledwhich makes finding the right Raspberry Pi pin much easier. There are eight mounting holes on the board, for example to separate the overlay and Raspberry Pi using spacers. The board requires no soldering, all components have been pre-installed by the manufacturer. The spacers were included in the kit along with the Hacker HAT overlay.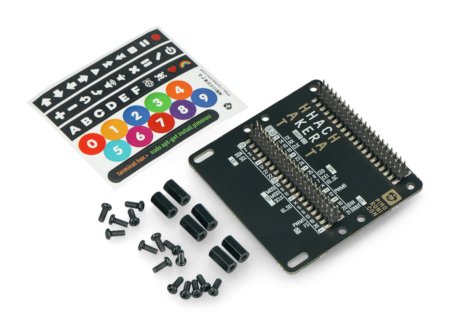 Hacker HAT overlay for Raspberry Pi. Stickers and mounting spacers and screws are also included.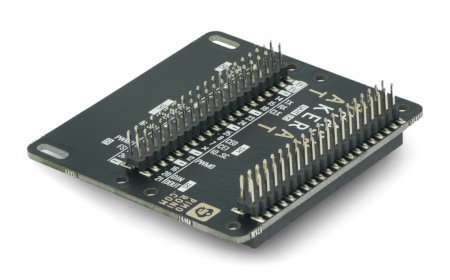 HAT Hacker overlay for Raspberry Pi minicomputer. It comes with factory soldered goldpin connectors, which are additionally labeled, making it much easier to identify the correct Raspberry Pi pin.
Main features of HAT Hacker for Raspberry Pi
Two Raspberry Pi GPIO pins on 40-pin male goldpin connector
All GPIO pins are labeled, which makes finding the right Raspberry Pi pin much easier
Six black metal spacers are included with the kit, along with screws for PCB and mounting HAT and miniHAT pads
Manufacturer soldered all needed pins, there is no need to solder by yourself
Before mounting the caps you should check if there is any pin conflict using for examplePinout.xyzpage andpHAT stack configurator.