Product description: I2C GPIO pinout expander and LED driver - AW9523 - STEMMA AT/Qwiic - Adafruit 4886
GPIO pin expanderand LEDdriver. Equipped withAW9523chip, provides up to16 additional GPIO inputs / outputs. Uses I2C bus to communicate with connected elements. As many as four expanders can be connected, due to four I2C addresses available. Allows control ofLEDsin the range of256lineardimming. Poweredfrom2.5V to 5.5V.
Product compatible with Arduino and Raspberry Pi.
A detaileduser guideis available on the manufacturer's website, which includes connection diagrams to individual controllers and libraries forArduino IDEandPythonenvironments.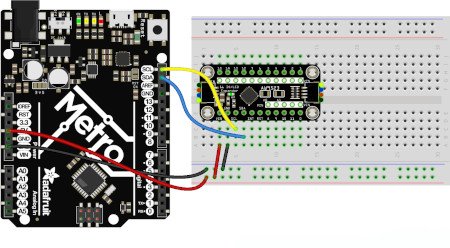 Connection diagram of module withMetroboard - Arduino derivative. PCB is not included in set, you can buy it separately in our shop.
Pinouts description
Module is equipped with leads in form ofsoldering fields, to which you should attachgoldpinconnectors, included in set. Alternatively, the element is also equipped withSTEMMA QT / Qwiicconnectors, through which it is possible to conveniently connect the module with the controller board - without additional soldering.
VIN- power supply pin
GND- system ground
SCL- logic pin, I2C interface clock line
SDA- logic pin, data line of I2C interface
STEMMA QT/Qwiic- connection connector
GPIO 0 - GPIO 15- input / output pins
INT- interrupt pin, warning about input value change
RST- reset pin
A0andA1- jumpers configuring communication interface address
Technical specification of the module
Circuit: AW9523
Type of module: lead expander and LED driver
Number of inputs / outputs: 16
LED linear dimming: 256 steps in control mode
GPIO configuration: independent, freely configurable
Communication interface: I2C (address selectable via AD1 / AD0 jumper)
I2C interface address:

default: 0x58
alternative: 0x59, 0x5A, 0x5B

SDA, SCL, SHDN pinouts and all GPIO can accept 1.8 V logic input
ESD protection: ± 4000 V HBM (MIL-STD-883H Method 3015.8 standard)
Power supply: 2.5 V to 5.5 V
Pinouts:

solder fields
STEMMA QT / Qwiic connectors

Dimensions: 38 x 17.8 x 4.5 mm
Weight: 2.5 g
Set contents
AW9523 LED expander and driver module
Goldpin connectors - 2,54 mm pitch