Product description: Light intensity sensor LTR-303 - STEMMA QT / Qwiic - Adafruit 5610
Sensor with the LTR-303 system from Adafruit . It allows the measurement of light intensity for both the infrared spectrum and visible light . The measurement ranges from 0.01 lux to 64,000 lux , and the measurement resolution is 16 bits . It uses the I2C bus to communicate with the connected module, thanks to which it can be integrated into any project. The module should be powered with the voltage from 3 V to 5 DC .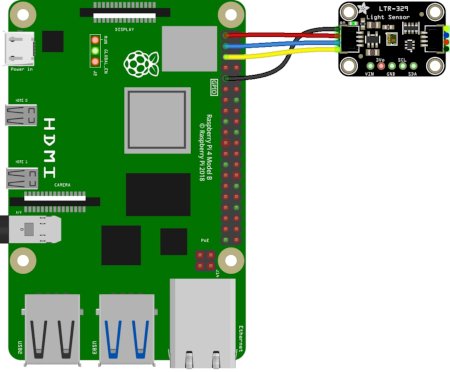 Light sensor connection diagram with Raspberry Pi (not included).
Description of the sensor pins from Adafruit
The light sensor can be connected in two ways. The first of them uses solder pads to which the goldpin bar with a raster of 2.54 mm (included in the set) should be soldered. Alternatively, the sensor also has a STEMMA QT / Qwiic connector , which allows for quick and convenient connection of the module, without the need to solder the elements.
VIN - power supply pin in the range from 3 V to 5 V DC
3Vo - 3.3 V power supply pin
GND - system ground
SCL - pin of the clock line of the I2C communication interface
SDA - pin of the data line of the I2C communication interface
INT - main interrupt pin, can be configured according to individual needs
Sensor technical specification
Module type: light intensity sensor
Chip: LTR-303ALS-01
Signal type: digital
Measuring range: 0.01 lux to 64000 lux
Measurement resolution: 16 bits
Supply voltage: 3 V to 5 V DC
Communication interface: I2C bus
Interface address: 0x29
Built-in temperature compensation circuit
Low standby power consumption
Operating temperature range: -30°C to 70°C
It is resistant to the IR/UV light source
Board dimensions: 25.3 x 17.7 x 4.8 mm
Kit contents
Light intensity sensor LTR-303 - STEMMA QT / Qwiic - 1 piece
Goldpin strip 1x6 - raster 2.54 mm - 1 pcs