Description
Hot air soldering iron  with the power of 700 W, with LED display. The device features a compact housing which takes up little space. The station has adjustable temperature and power of airflow. The fan in the flask is driven by a brushless motor which provides higher durability and reliability, and quiet operation of the airflow.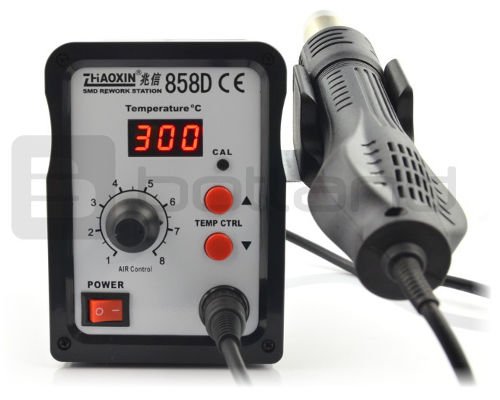 Through the use of inductive sensor, in case of putting the hot air flask off, a soldering iron automatically goes into a waiting state (stand-by). After re-removing the flask from the stand, the station automatically starts an airflow with previously adjusted parameters. This solution extends the durability of the heating element.
Specification
Supply voltage: 230 V / 50 Hz (network)
Power: 700 W
Digital temperature control from 100 °C to 480 °C
Adjustment of airflow up to 120 l/min at a power of the knob
The fan is driven by a brushless motor
The device has a standby mode and is enabled automatically when you place the flask on the stand
The station has a compact housing
Reading a set flow is allowed by the LED display
Inthe set:
Soldering station, WEP 858D
The flask hotair
Stand for the hotair flask
Set of nozzles:

round nozzle with a diameter of 12 mm
round nozzle with a diameter of 8 mm
round nozzle with a diameter of 5 mm
First run
After delivery of equipment, it should not be immediately started.
Equipment must remain about 12 hours at room temperature before switching on.
All applications for damages caused by the premature commissioning of the equipment, will be denied.
Our range of accessories for soldering: