Product description: Temperature measuring probe Uni-T UT-T10K
K-typeprobe used to measure temperature. Manufactured by Uni-T, one of the most popular manufacturers of universal meters. Measuring range of the probe is from-40°Cto260°C. Measurement error when using the product is approximately0.75%. The product is compatible with the majority of Uni-Tmeters, which are equipped with temperature measurement function. Simplebanana plugs, also used in electrical probes, are used to connect the probe to the meter.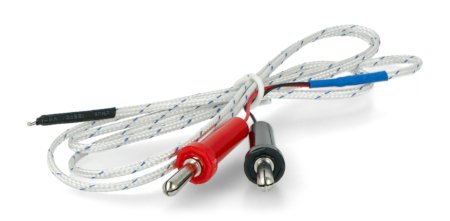 The probe is connected using straight banana connectors.
Technical specification
Type of probe: K
Measuring range: from -400°C to 260°C
Measuring error: approximately 0.75%
Connector: two straight banana plugs
Examples of Uni-T gauge models compatible with the probe: UT30, UT33, UT50, UT60, UT70, UT213, UT39C, UT204A, UT206, UT107, UT39C