Description
Universal platform for Raspberry Pi with two wheels and ball support. It gas two micro DC motors with the motor control unit, diode RGB, line sensor, obstacle avoidance, and remote control. The kit also includes a camera forRaspberry Pi, power supply and a 16 GB memory card.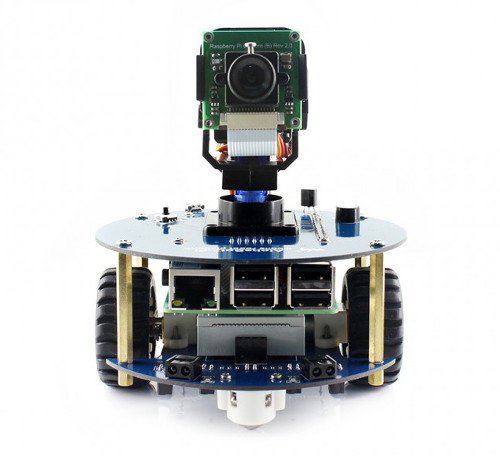 The platform is very easy to install, to run the robot just screw both platforms together and add the Raspberry Pi. On the platform there are the motor drivers TB6612FNG, two N20 motors, two reflective IR  sensors: ST188 and ITR20001/T, potentiometer, two wheels 42 mm and others. It also has a lot of connectors that facilitate the connection of additional modules.
Contents of the AlphaBot2-Base platform

Control interface AlphaBot2: for connecting various sensors
Ultrasonic interface module
Indicators of avoiding obstacles
Two ball supports type Omni
ST188: relfective IR sensor for obstacle avoidance
ITR20001/T: relfective IR sensor for line detecting

Potentiometer to set the range of avoiding obstacles
TB6612FNG: 2-channel H bridge - motors driver

LM393: voltage comparator
2 motors micro N20: reducer 1:30, 6 V, 600 rpm
2 rubber wheels: diameter 42 mm, width 19 mm
The power switch
Battery container: supports battery type 14500
WS2812B diode: RGB LCD
LED power indicator
Contents of the AlphaBot2-PI platform

Control interface AlphaBot2: AlphaBot2-Base
Interface Raspberry Pi to connect to the Raspberry Pi
Interface servos
Converter USB - UARTvia USB
LM2596: voltage regulator
TLC1543: 10-bit Converter A/C, allows the use of analog sensors with the Raspberry
PCA9685: controller, servos,
CP2102: converter USB - UART
Joystick
IR receiver
Buzzer
The set
The se includes:
L. p.
Photo
Description
1
Main board AlphaBot2-Base.

2
AlphaBot2-PI:adapter plate for Raspberry Pi.
3
HD Camera B- camera with adjustable focus for the Raspberry Pi.
4
Holder for servos micro Pan/Tilt.
5
Connecting tape FC-20P.

6
Screws and spacers.
7
Mini screwdriver.

8
Servo-type micro - 2 PCs.
9
IR remote control.
10

Memory card 533x, SanDisk Ultra microSD

16GB 80MB/s UHS-I class 10 without adapter.

11
A card reader microSD.
12
Switching power supply 5 V / 3 A, with microUSB connector.
The kit does not contain batteries14500andRaspberry Pi. They must be purchased separately.