Attention!
The product has been discontinued. Check other products in category.
Description
The SparkFun module is compatible with Arduino Pro Mini. It has 16 digital i/O and 8 analog I/O, analog-to-digital and digital-to-analog converter, hardware CAN485 controller and popular communication interfaces. Works with voltages from 5 V to 16 V.
On board is the Atmel AT90CAN128 microcontroller with 128 KB of Flash memory, 4 KB of SRAM and the speed up to 16 MHz. The pins on the board are compatible with Arduino Pro Mini, also has pins of CAN485bus. The module is supported by the Arduino IDE.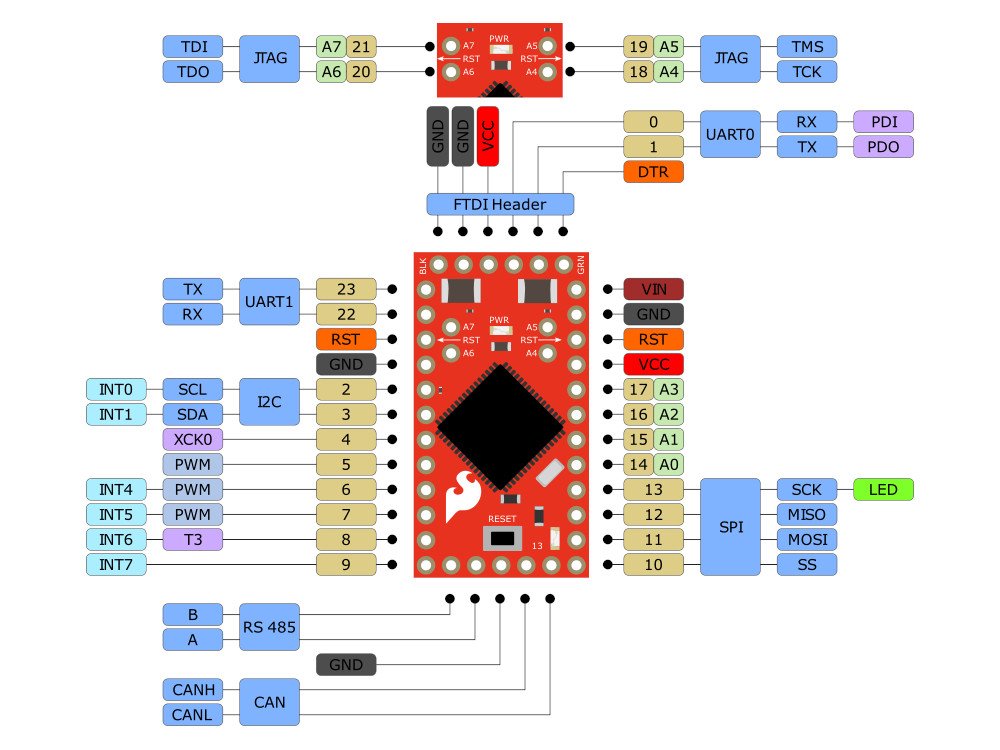 In order to run the AST-CAN485, it is necessary to connect the system to computer usingmicro usb cable. Then, inthe Arduino IDE, you need to install the AST AVR Boards - instruction.
What differentiates the board from other modules compatible with Arduino, is the hardware CAN485 controller with commonly used ports and communication pins containing function: I2C, SPI, UART, 8 analog inputs and 6 interrupts.
Specification
Supply voltage: 5 V to 16 V
The distribution of connectors, compatible with the Arduino Mini
Microcontroller: AT90CAN128 / 16 MHz
Maximum clock frequency: 16 MHz
SRAM: 4 KB
Flash memory: 128 KB
16 digital I/O
8 analog inputs
CAN485 controller 
Serial interfaces: UART, SPI, I2C
Useful links
Documentation:
CAN bus:
RS485
GitHub Repo