Attention!
The product has been discontinued. Check other products in category.
Description: Lumeelamp Sterilizer Dual 36F - device for sterilization and disinfection
The device is designed tosterilise and disinfectsurfaces and air withUV-C radiation of 254 nm wavelength. Designed for use both at home and in public areas. It provides effective disinfection in doctor's offices, pharmacies, training rooms or beauty parlours. Sterilizer Dual 36F hastwo operating modes. It does not produce harmful ozone during operation.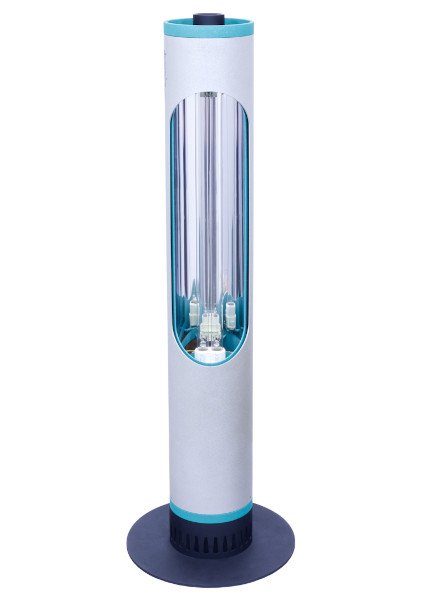 Lumeelamp Sterilizer Dual 36F.
Operating modes of the device
The Dual 36F Sterilizer allows you to work in two modes: with theradiator chamber open and closed:
The open modeallows for effective disinfection of objects and surfaces while the room is empty, when there are no people in it. Working with an open radiant tube heater chamber allows effective control of bacteria, viruses and moulds in a closed area, among others.
The closed modecan be used even in the presence of people in the disinfected room. It is equally effective in removing germs and helping to get rid of unpleasant odours. This mode is completely safe for people and animals. The open radiator filter unit has two speeds: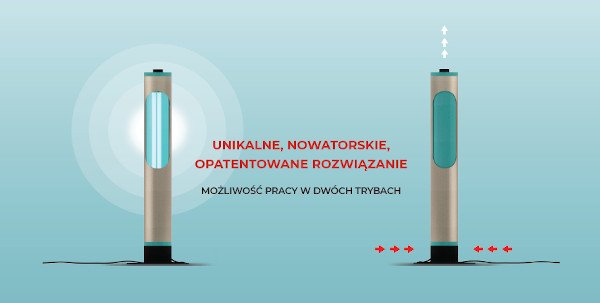 Two modes of operation associated with opening the heater.
Safety in use
Lumeelamp Sterilizer Dual 36F is made ofsteel with a special protective coating. It is not susceptible to UV-C radiation, which makes the device safer to use. The manufacturer indicates that it is possible to replace the UV-C radiator with a standard energy-saving fluorescent lamp, which allows to turn the sterilizer into a standardlamp. The product hasthe Hygienic Certificate of the Polish Institute of Hygiene (PZH)andthe report on efficiency tests.
The product meets the requirements of the EU directive 93/42/EEC Class I, Reg. 12. The product has been patented: P.434995.
Specification Lumeelamp Sterilizer Dual 36F
Technical Specification
Power supply voltage:
220 V / 50 Hz
Power consumption:
48 VA
Disinfected surface:
from 15 m2 to 20 m2
Disinfected cubature:
from 35 m3 to 50 m3
Radiation source:
UVC radiator EN-L36W/4P, 2G11
UV-C radiation (wavelength):
254 nm
UV-C radiation intensity at a distance of 1 m:
1.4 W/m2
Durability of the radiator:
8000 hours
Fan capacity:
106 m3/h
Performance in use - standard mode:
39 m3/h
Performance - turbo mode:
68 m3/h
Noise level - standard mode:
33 dB
Noise level - turbo mode:
46 dB
Protection against electric shock:
Class I
Leakage class:
IP20
The length of the power cord:
2 m
The way to start:
switch
Dimensions of the device:
790 x 120 x 120 mm
Diameter of the device base:
250 mm
The weight:
7.5 kg