Attention!
The sale of the product has been completed. Check others in thiscategory.
Description
The module based onRFM75 chipenables two-way wireless communication in half duplex mode at 2.4 GHz. The transmission range is up to 70 m. Soldering socket enables direct connection to GPIO Raspberry Pi pins. Ideal for projects such as: device automation, robot control, communication between Arduino and Raspberry and many, many others.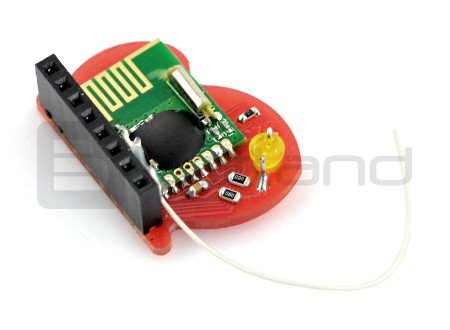 The module has a 2.54 mm female raster socket - matched to thegoldpin connectors.
Connection with Raspberry Pi
In order to connect the module to the Raspberry Pi, you have to connect the module to the GPIO pins in the external row starting from the 6 pins from the bottom.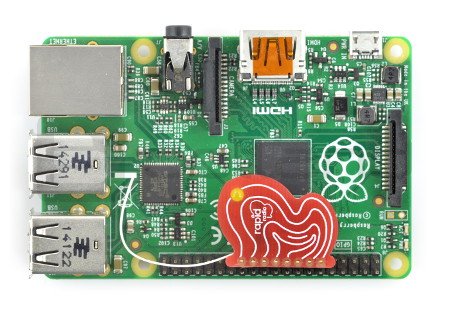 The picture shows how to connect with Raspberry Pi 3.
Raspberry and Arduino compatible product

The manufacturer has prepared a user guide with the connection method and sample program forRaspberry PiandArduino.

Exits
The module has 8 2.54 mm raster outputs, communicates through the SPI interface, operates with 3.3 V (also tolerates 5 V).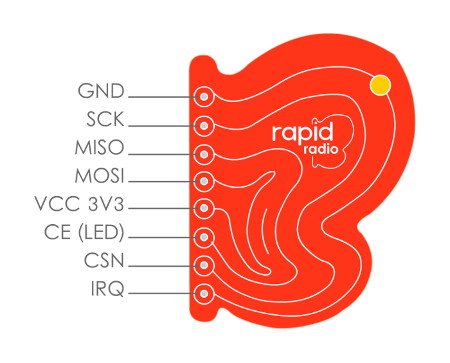 | Pin | Description |
| --- | --- |
| GND | The weight of the constellation. |
| SCK | SPI clock line. |
| MISO | SPI input line. |
| MOSI | SPI output line. |
| VCC 3V3 | Power supply 3.3 V. |
| CE (LED) | LED control. |
| CSN | The device selection (chip select) in SPI mode. |
| IRQ | Break in SPI mode. |
Specification
Supply voltage: 1.9 V to 3.6 V
The outputs tolerate 5 V
SPI interface with speeds up to 8 MHz
Transmitter power: - from -35 dBm to 5 dBm
Frequency: up to 2.4000 GHz up to 2.4835 GHz (83 channels)
Address: 4 byte
Transmission speed: up to 2 Mbit/s
Transmission range: up to 70 m
Module dimensions: 27 x 21 x 12 mm