Product description: Bare Conductive Electric Paint - 1l
Water basedpaint, which conducts electricity. Thanks to it it is possible to paint tracks on any surface, such as paper, wood, glass or plastic. The substance allows also to repair broken tracks on printed circuit boards.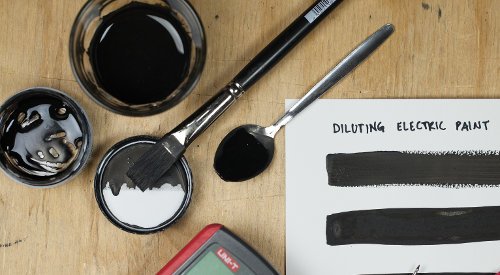 The set does not contain a brush, it can be purchased separately.
The product is non-toxic, contains no hazardous solvents, dries quickly at room temperature. To remove it you just need water with soap. The jar contains 1 l of paint.
Main features of conductive paint
The paint dries in 10-15 minutes at room temperature
The surface to be painted must be completely dry
The paint can be removed with soapy water
Painted paths can be protected with acrylic paint or spray paint
The paint will last for several years - assuming the surface is dry
Works with: paper, cardboard, wood, plastic, glass, textiles, and many other materials
The paint allows to join electronic elements, e.g. LEDs with resistors and to repair printed circuit boards
The substance can be used for joining so-called electrically conductive e-materials
Surface resistance is approximately 55 Ω2 for a path thickness of 50 μm
Examples of using Bare Conductive Electric Paint