Description: Grove - 3-axis digital accelerometer ±16 g low power (BMA400)
Grove module 3-axis ±16 g low power digital accelerometer.It is a12-bit digitalthree-axis sensor that detects accelerationandmovement. The sensor is able to detect body alignment, walking, running and standing still. Based on theBMA400chip. Poweredfrom 3.3 V to 5 V. Grove cable is included.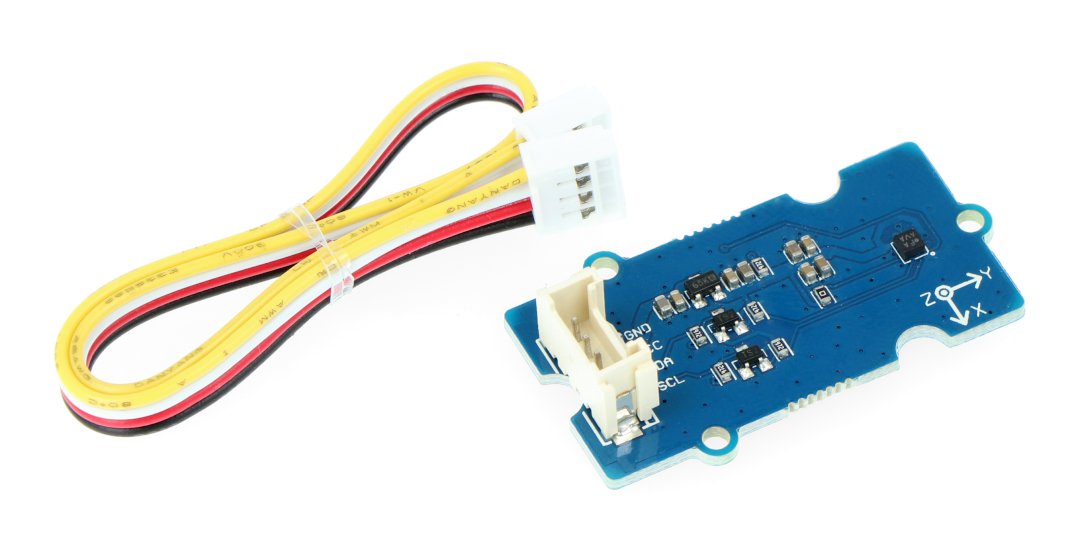 Grove - 3-axis digital accelerometer.
Functions and applications of the Grove module with 3-axis accelerometer
Very low power consumption.
Programmable functions.
Interrupt function on the chip.
Can be used as a step counter.
Fitness applications / Activity Tracking.
Connecting an accelerometer from Grove
The module is equipped with Grove interface for easy connection with ArduinoandBase Shield v2.0overlay using the included cable.

Pin
Description
1.
SCL - clock line I2C
2.
SDA - I2C data line
3.
System power supply from 3.3 V to 5 V
4.
System weight
5.
BMA400 module
Technical specification for Grove 3-axis digital accelerometer
Parameter
Scope
Supply voltage
3.3 V to 5 V
Energy consumption

18uA @5V
14uA @ 3.3V

Operating temperature

From -40℃ to +85℃

Acceleration range
±2 g, ±4 g, ±8 g, ±16 g
Sensitivity
1024 LSB /g @ ± 2 g
512 LSB /g @ ± 4 g
256 LSB /g @ ± 8 g
128 LSB /g @ ± 16 g
Interface
I2C
I2C address
0x15 (default) / 0x14 (optional)
Dimensions
40 mm x 20 mm x 10 mm
Mass
3.2 g