Description
Sensor, type PIR, is designed for motion detection, is used to detect human presence in indoors in alarm and lightingsystems. The sensor is powered with the voltage in the range from 4.5 V to 20 V, has a range of up to 7 meters. Object detection is indicated by a high status.
The digital output allows connection of the sensor to any board equipped with a microcontroller, e.g.Arduino,STM32Discoveryor minicomputer Raspberry Pi. Pins aregoldpin connectors(pitch of 2.45 mm) for connecting the sensor by wires.
Method of application
Power supply (4.5 V to 20 V) must be connected to external pins marked, respectively, by the symbol VIN and GND in the picture below. Detection of an object in the field of view of the sensor, is signaled with a high status that appears at the OUT output.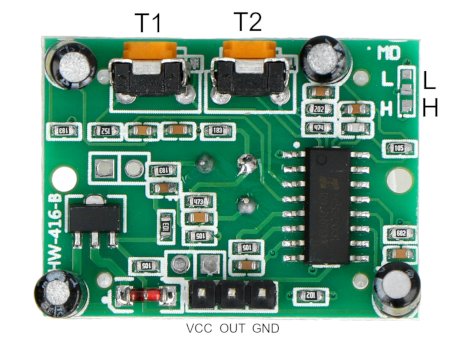 Thanks to potentiometer, the user can adjust:
T1- duration of the high state upon detection of the object
T2- sensor sensitivity (distance, which detects the movement of an object)
With the jumper, which has to be self-soldered, mode of operation is selected from two available outputs:
retriggering(jumper in H position) - the output reaches a high status, after the detection of the object and it is held for the entire time of detection of continued motion,the sensor, by default, is in this mode (no jumper)
non-retriggering(jumper in position L) - the output reaches a high status only once, after detection of the object and then goes to a low status, regardless of whether the movement continues
Specification
Supply voltage of  DC: 4.5 V to 20 V
Power consumption in standby mode: 50 uA
Output voltage: 3,3 V
Measuring range: max. 7 m
Viewing angle: up to 100 °
Digital output:

High status - object detected
Low status - no object

The dimensions of the base of module: 32,5 x 24,5 mm
Bowl diameter: 23 mm
Bowl height: 18 mm
Total height: 30 mm (with elements mounted in the bottom of the board)