Product description: DRV8876 - single-channel 37 V / 1.3 A motor driver - Pololu 4036
Single-channel DC motor controller manufactured by Pololu. Equipped with the DRV8876 system, it is supplied with the voltage from 4.5 V to 37 V. The continuous current per channel is 1.3 A (temporary up to 3.5 A for 1 second). The module allows you to control the speed and direction of rotation of one motor, using only two pins of the microcontroller. The controller is also equipped with protection against reverse polarity, too low voltage, too high current and too high temperature. The set includes goldpin connectors, intended for self-soldering.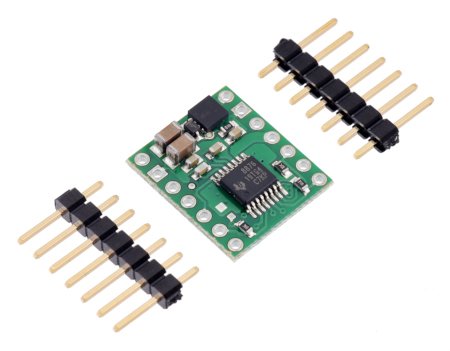 DRV8876 - single-channel driver for 37 V / 1.3 A motors - Pololu 4036 - kit contents.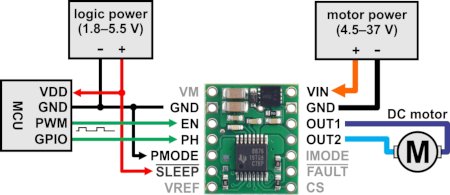 Connection of the DRV8876 motor driver.
Connecting the DRV8876 driver
The motor supply voltage in the range from 4.5 V to 37 V should be connected to the VIN or VM pin. In a typical application, it is enough to connect two control lines: the selection of the PHASE rotation direction and the PWM speed regulation to the ENABLE pin. By default, the controller is in sleep mode - to exit it, you need to supply the SLEEP pin with a voltage in the range from 1.8 V to 5.5 V. DRV8876 offers three possible control modes:
PHASE / ENABLE (PH / EH)
PWM (IN / IN)
Via an independent half-bridge
Pins of the DRV8876 driver
Pin
Default state
Description
VIN
Input voltage from 4.5 V to 37 V.
GND
The mass of the system for the engine and logic.
VM
Pin that gives access to the motor's power supply after activation of the MOSFET protection against reverse voltage. It can be used to power other system components with reverse polarity protection.
OUT1
Engine output 1.
OUT2
Motor output 2.
EN / IN1
LOW
Pin 1 for motor turn ON / OFF PHASE / ENABLE (PH / EH).
PH / IN2
LOW
Pin 2 to control the direction of rotation of the motor PHASE / ENABLE (PH / EH).
FAULT
FLOATING
Open-drain, fault output activated with low state. The pin goes low after exceeding the permissible current or voltage. It needs to be pulled up with a resistor to be high by default.
SLEEP
LOW
The SLEEP input causes the controller to enter the low power state after entering the low state. This pin can also be switched to clear a stuck over current or over temperature fault.
VREF
Current limiting threshold reference voltage.
DRV8876 motor driver specification
Number of channels: 1
Supply voltage: 4.5 V to 37 V
Continuous current per channel: 1.3 A
Instantaneous current per channel: 3.5 A
Maximum PWM frequency: 100 Hz
Minimum logic voltage: 1.8V
Maximum logic voltage: 5.5V
Reverse polarity protection
Dimensions: 15.2 x 17.8 mm
Weight: 0.9 g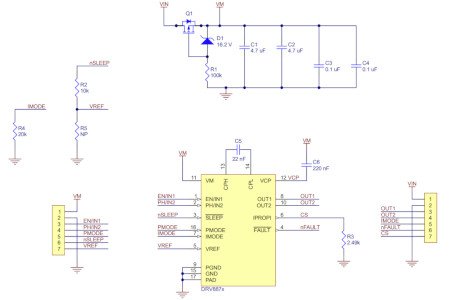 Diagram of the DRV8876 driver.