Product description: NanoPi NEO3-LTS - RK3328 Quad-Core 1,3 GHz + 2GB RAM with case and heatsink
Version ofNanoPi Neo3minicomputer withcase and heatsink. NanoPi Neo3 is based on theRockChip RK3328 Quad-Core ARM Cortex-A53processor clocked at 1.29 GHz. The module is equipped with1 GB of DDR4 RAM,Gigabit Ethernet port with unique MAC address, USB 3.0 slot, USB Type-C power connector,microSD memory cardslot and 26 GPIO pins. It runs the FriendlyWrt / Ubuntu operating system.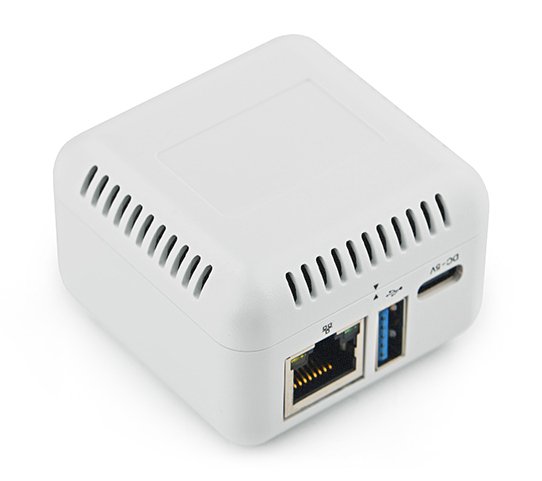 NanoPi Neo3 minicomputer in a case.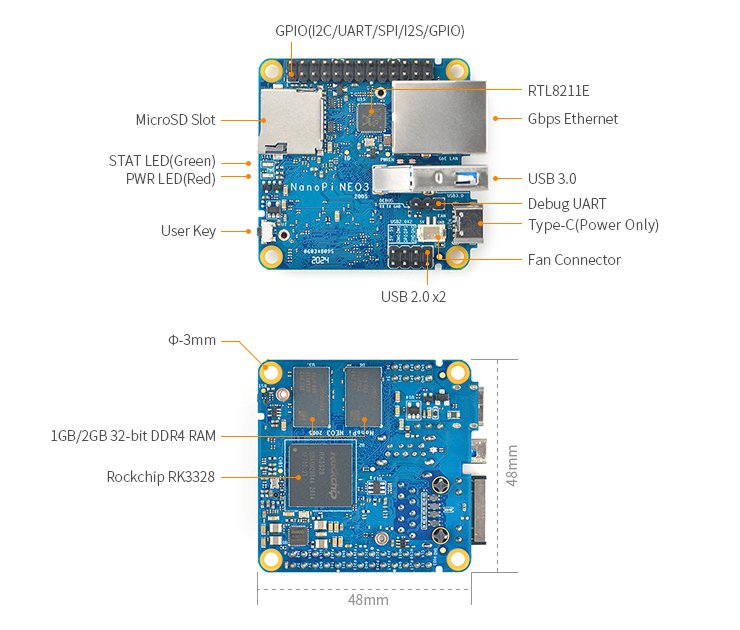 NanoPi Neo3 - pinouts.
What do you need to run NanoPi Neo3?
Operating system for NanoPi
NanoPi minicomputer works with systems prepared by the manufacturer: FriendlyWrt and Ubuntu. The operating system can be installed on a microSD memory card.
Communication of NanoPi Neo3 minicomputer
NanoPi Neo3 has communication interfaces that can be found in standard PC class computers:
1x USB 3.0 type A connector + 2 USB 2.0 ports on 2.54 mm pins, to which you can connect WiFi adapter, mouse or keyboard. The number of connectors can be extended by using the USB hub.
1x Ethernet 1 Gb/s socketfor wired connection to LAN using RJ45 cable.
GPIO x 26 pins- general purpose inputs / outputs, which can be used to operate LEDs, buttons, motor drivers. The interfaces include: I2C, I2S, SPI and UART.
MicroSD cardslot - a slot for a microSD card which is a carrier for the operating system.
Comparison of NanoPi Neo2 and NanoPi Neo3
Model
NanoPi Neo2
NanoPi Neo3
Processor
Allwinner H5
RockChip RK3328
Architecture
Cortex A53
Cortex A53
Clocking
400 MHz to 1.2 GHz
400 MHz to 1.296 GHz
Core voltage
1,1 V / 1,3 V, two-step voltage adjustment
0.96 V to 1.3 V, six-stage dynamic scaling and voltage adjustment
Number of cores
4
4
Memory bus
DDR3 16-bit
DDR4 32-bit
RAM Frequency
504 MHz
786 MHz to 1056 MHz, dynamic scaling
Ethernet
10/100/1000 Mb/s, software generated MAC address
10/100/1000 Mb/s, unique MAC address
USB
USB 2.0
USB 3.0
Fan connector
-
yes
Power connector
microUSB
USB type C
Key
-
User Key
Uboot
U-boot-2017.11
U-boot-2014.10
Kernel
4.14
5.4
OS
FriendlyWrt / Ubuntu core 16.4
FriendlyWrt / Ubuntu core 18.04
Dimensions
40 x 40 mm
48 x 48 mm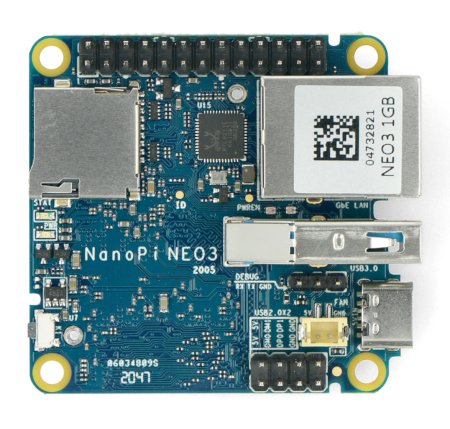 NanoPi Neo3 Minicomputer.
NanoPi Neo3 specification
CPU: RockChip RK338 ARM Cortex A53 Quad-Core 1.3 GHz
RAM: 2 GB DDR4
MicroSD slot
Ethernet: 10/100/1000 Mbps with unique MAC
USB:

1x USB 3.0
2x USB Host on 2.54 mm pin
USB Type C for power

Pin Connector: 26-pin GPIO 2.54mm I2C, I2S, SPI, UART
LED:

PWR LED (red)
STAT LED (green)

Button: 1x general purpose button
Operating temperature: from -20°C to 70°C
Power supply: 5 V / 1 A USB C
PCB: 6 layers
Equipment: white casing with heatsink
Dimensions: 48 x 48 mm
Weight: 22 g