Product description: Raspberry justPi set Pi 3B+ WiFi + accessories
The justPi kit includes aRaspberry Pi 3mini computermodel B+ 1 GB RAMwith a protectivehousingand a 5 V power supply with a current capacity of 2.5 A. A memory cardwithNOOBssoftware,HDMI cable and Patchcord are included.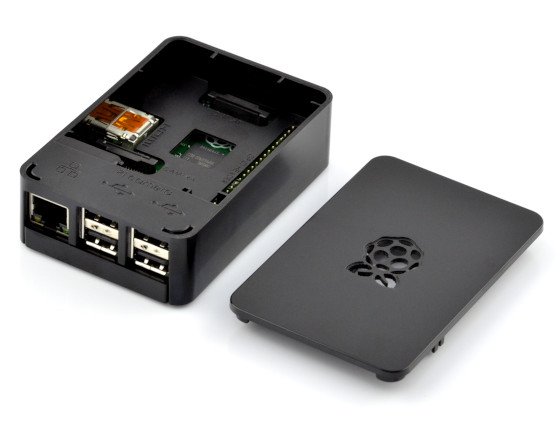 The enclosure included in the set has a possibility to remove the top cover, so the user can easily connect the circuits to GPIORaspberry Piconnectors.


To purchase the Raspberry Pi minicomputer with other accessories, please use the configurator.
Set contents
L.p.
Photo
Name
1
Raspberry Pi 3 Model B+ 1 GB RAM- The latest version of the popularRaspberry Pimini-computerin version 3 B+. This model distinguishes more efficient Broadcom BCM2837B0 quad-core 64-bit ARM-8 Cortex-A531.4 GHzprocessor. In addition, the board has dual band 2.4 GHz and 5 GHz WiFi, Bluetooth 4.2 / BLE, Ethernet port with a speed of up to 300 Mbps and the ability to power through PoE.
2

MicroUSB 5V / 2.5A justPi power supply-MicroUSB tip compatible with Raspberry Pi mini-computer with a maximum current capacity of 2.5 A.It works with 3B+, 3B+ 2B, 1B+, 1B, 1A and Zero and Zero W models.

3

JustPi case for Raspberry Pi mini-computer- RS Pro version with a flap that gives access to audio, video, microSD power card and GPIO connectors. It is also possible to mount a heatsink on the main processor, there is no space for a heatsink in the LAN controller chip.

4
32 GB microSD memory card with NOOBs system-withNOOBssoftware, enabling installation of popular operating systems forRaspberry Pi.Type micro SD/SDHC mini-computer. Class 10 product with UHS-I interface. Read speed: up to 100 MB/sec, write speed: from 10 MB/sec.
5
HDMI cable

- Class 1.4,

has gold-plated tips and is 1.5 m long.

6
Patchcord network cable

-

Category 5e Ethernet black twisted pair cable with 2 m RJ45 connectors mounted.
What's new with the Raspberry Pi 3?
Broadcom BCM2837B0 chipset with 64-bit Quad-core ARM-8 Cortex-A53 CPU, clocked at 1.4 GHz

The new Dual Band 802.11 b/g/n/ac WiFi module is built in and operates in the 2.4 GHz and 5 GHz bands

Power over Ethernet with additional overlay - HAT overlay will be available soon.

The layout and outline of the board remain unchanged. This means that the housings and accessories for the Pi 3 version will be compatible with the Raspberry Pi 3+.

Details in thespecification of the device
Operating system
The raspberry drive isa microSD memory card. The operating system can be uploaded using a computer with a reader. In our shop there arecards with NOOBs program installed, which at the first start allows you to choose from the systems: Raspbian, Openelec, RaspBMC, OSMC Linux. You can also install Windows 10 IoT on your own.
Specification
Basic information
Model
Raspberry Pi 3 model B+
Edition
3 - 2018 r.
Technical specification
Chipset processor
Broadcom BCM2837B0 64-bit
Core
Quad-Core ARM Cortex-A53
Operating systems

Linux Raspbian

Windows 10 loT

Clocking
1.4 GHz
Architecture
ARMv8-A
Memory RAM
1 GB LPDDR2 @ 900 MHz
Memory
microSD card
GPIO socket

40-pin connector (2x20 pin)

raster 2.54 mm
Power supply

5.0 V / 2.5 A
via microUSB

5 V by GPIO
PoE by means of
additional overlay

Dimensions of the tiles
85 x 56 x 17 mm
Interfaces
USB interface
4x USB 2.0 - socket type A
Network interface
Ethernet port 100/1000 Gbps
WiFi interface

Dual Band 2.4 GHz and 5 GHz

802.11 b/g/n/ac

Bluetooth
Low Energy, BLE 4.2
Camera
CSI socket
Touchscreen display
DSI socket
Video

HDMI HD 1080px / 30 fps

H.264 1080p30

OpenGLES 1.1, 2.0

Communication
UART, SLEEPING, I2C, GPIO