Product description: Double sided spring steel plate - for Snapmaker 2.0 A350 printers
Double sided platform designed forSnapmaker 2.0 A350printerswith magnetic work table. It is made of thinspring steel. To attach the plate, simply place it on the workbench and the plate is immediately attracted to the magnets in the table. The product adheres very well to the table, so there is little risk of the platform accidentally moving. The plate is flexible, so tearing the print from it is not a problem at all. Just take it off the table and slightly bend it, and the printed model will automatically detach from the surface. This solution minimizes the risk of accidental tableadjustmentor destruction of the printed object. Such pads make the first layer of our printout adhere muchbetter to the workingtable, whichreducesthe likelihood of problems during printing.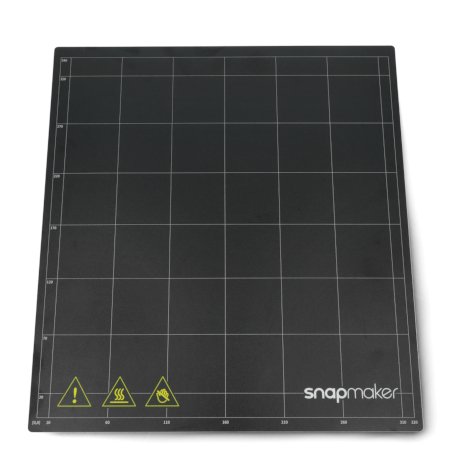 Plate is fully compatible with Snapmaker 2.0 A350 printer.
Specification for double sided spring steel plate
Material: spring steel
Texture: textured
Compatible with: Snapmaker 2.0 A350
Plate dimensions: 364 x 334 x 1 mm
Workspace dimensions: 340 x 320 mm